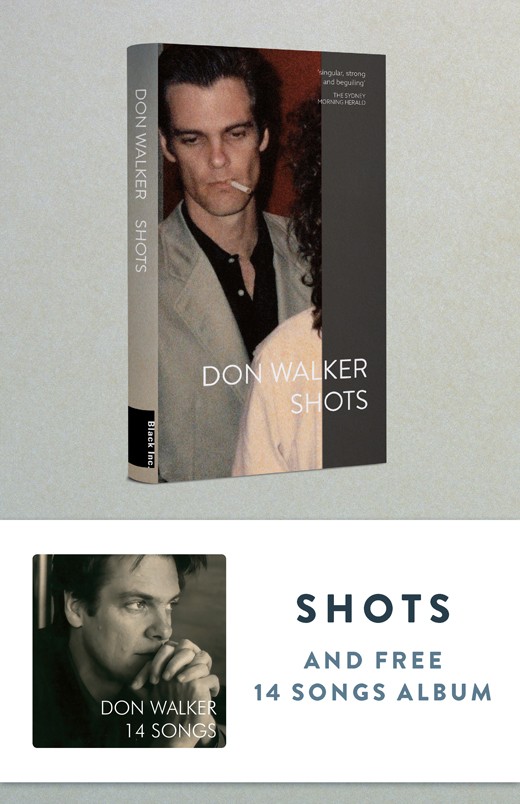 Books > Imprint: Black Inc. > Music & Entertainment
Shots (Pre-order offer only)
Receive Shots plus a free digital copy of 14 Songs compilation album
From the legendary songwriter for Cold Chisel, here is a handsome hardback edition of Don Walker's acclaimed memoir, reissued to commemorate the publication of Don's collected lyrics.
This extraordinary memoir begins with Don Walker's early life in rural Australia and goes up to the late '80s. In mesmerising prose, Walker evokes childhood and youth, wild times in the '70s, life on the road and in Kings Cross, music-making and much more. Shots is a stunningly original book, a set of word pictures - shots - that conjure up the lowlife and backroads of Australia.
14 Songs compilation album includes 'Khe Sanh' by Cold Chisel, 'Flame Trees' by Sarah Blasko, 'In the Early Hours' by Catfish, 'Such a Beautiful Thing' by Ian Moss, 'Looking Forward Looking Back' by Slim Dusty, 'The Way You Are Tonight' by Missy Higgins, 'Saturday Night' by Cold Chisel, 'Down the Road' by Jimmy Little and Troy Cassar-Daley, 'Harry Was A Bad Bugger' by Don Walker (Live), 'Sitting in a Bar' by Tex Don and Charlie, 'Stone Cold' by Jimmy Barnes, 'Young Girls' by Don Walker, 'Sing to Me' by Kate Cebrano, 'All for You' by Cold Chisel
The 14 Songs compilation download link will be emailed within 48 hours of purchase.