News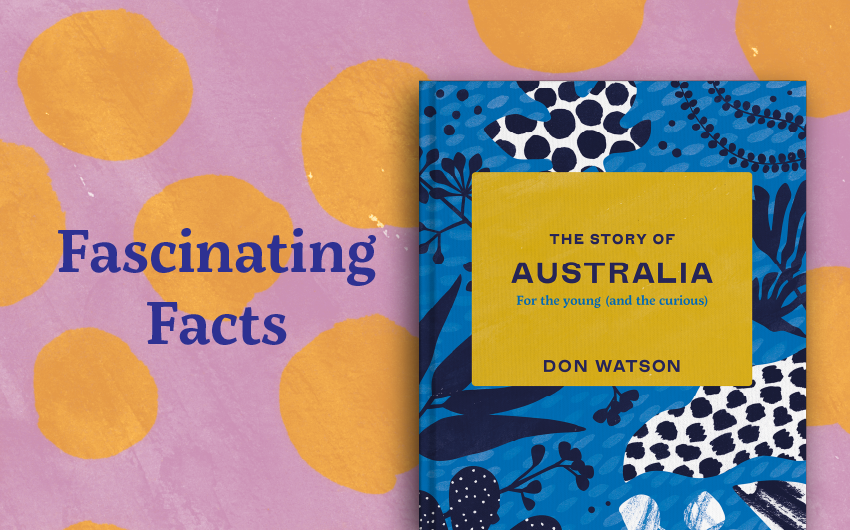 News >
12 things we learnt from The Story of Australia
Fascinating facts from Don Watson's history of Australia for children of the twenty-first century.
The Story of Australia weaves together the many strands of our nation's past – ancient and indigenous, colonial and contemporary – to create a fascinating history for all readers, young and old. Here's some of what we learnt.
Fifty thousand years ago when sea levels were 100 metres lower, New Guinea and Australia were one continent scientists call 'Sahul'.
Kangaroos that weighed 400 kilograms, flightless birds twice the size of emus, tortoises the size of cars, fierce marsupials, snakes 10 metres long, echidnas as big as sheep, and diprotodons – wombat-like creatures the size of rhinoceroses – were among the many creatures that walked the land 50,000 years ago.
The most recent tests have shown that Mungo Woman and Mungo Man lived not 25,000 but 42,000 years ago, making them the oldest human remains found anywhere in Australia.
The First Fleet voyage from Britain to Botany Bay took 252 days. The convicts were crammed into spaces just 137 centimetres high and slept in double bunks a mere 90 centimetres wide.
The first AFL game was played in 1858 between Scotch College and Melbourne Grammar School. There were forty players on each side. The first side to kick two goals was to be the winner. But when after three days' play neither side had managed to do this, the match was abandoned.
In 1872, a telegraph cable reached Adelaide from London. Until then the only way to get messages to and from the other side of the world was by ships that took two months or more. The telegraph took just seven hours.
The world's first feature-length film, The Story of the Kelly Gang, was shot in Melbourne and shown in 1906.
Charles Kingford Smith and his flying companion, Charles Ulm, were the first to fly a plane across the length of the Pacific Ocean, in 1928.
In 1933 the new Australian Broadcasting Commission (ABC) kept everyone up late at night broadcasting the cricket from England via radio. Commentators in a studio in Sydney described the action to listeners and added the sound of a bat striking the ball by hitting a hollow piece of wood with a pencil.
Betty Cuthbert became known as Australia's Golden Girl after she won three gold medals in athletics at the 1956 Olympics held in Melbourne.
By 2015, nearly 30 per cent of people living in Australia were born overseas.
Australians are having babies much later in life, but they are living much longer – and their children will live longer still.
The Story of Australia is a beautifully illustrated hardback that will be treasured for generations to come. In bookstores 2 July.