News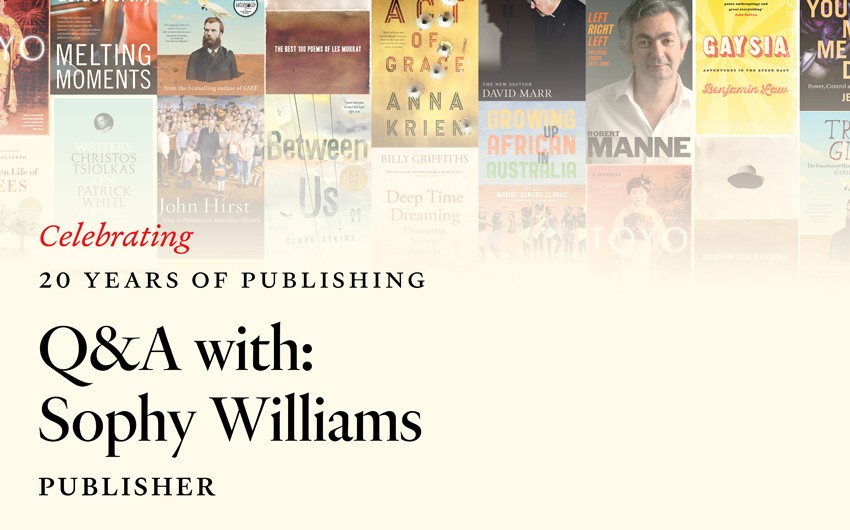 News >
20 years of publishing: Q&A with Sophy Williams
Our international director talks about what she looks for in a book and how you can support booksellers.
It's our birthday! We're celebrating 20 years of publishing with 20% off 20 books. We also chatted with publisher and international director Sophy Williams about what makes a captivating book and how best to support authors, bookshops and festivals.
What was your pathway to publishing? Have you worked in other areas of the book industry?
My first experience was an internship with Patty Brown at Text Publishing, supporting publicity and marketing. I was hooked from day one and fell in love with the world of publishing. When a start-up company Black Inc. was advertising for staff in 2001 I jumped at the chance, and I have been here ever since. Life in a small company means you get to wear many hats. My pathway to being a publisher was through international rights management, which gave me a good understanding of books that appeal globally. This knowledge continues to inform my acquisitions strategy.
What are the books that shaped you, or had the biggest impact on your life?
In high school I read classics almost exclusively: everything from Austen to Colette and beyond. Later on books like Backlash by Susan Faludi and No Logo by Naomi Klein made a huge impact on my understanding of the world and gave me a lifelong admiration for the power of non-fiction to shape ideas and shift conversations. I have all of J.M. Coetzee's works on my shelves, and I will greedily read anything by Michelle de Kretser. I've read all of Zadie Smith's novels, but her essays are the real treasures in my view.
What's the book you're most proud to have published?
The Hidden Life of Trees by Peter Wohlleben. It has found such a broad readership in Australia, and I think it has changed the way people relate to forests. It's a case of the science enhancing the magic.
Which books do you feel should have had a bigger reach, and that readers might have missed but should definitely read?
I've just published a book called On Pandemics, by David Waltner-Toews, which is a quiet masterpiece and I hope there is more pick-up in the trade. I fear people might think it's too scientific and dry, but it's actually lyrical and oddly comforting.
What are the key things you look for in a manuscript, and how do you know when you've found a gem?
I look for authority, voice, clarity, originality of ideas and charm. Yes, charm! Because you must seduce your reader, no matter what genre of book it is. I know when I have found a gem when I feel I can talk endlessly and enthusiastically about it.
What kind of books do you like to read (when not reading for work)?
Non-fiction, mainly. If I do pick up fiction, it is usually in translation or a classic I have missed. I recently enjoyed discovering Joris-Karl Huysmans' fantastically weird book Against Nature, for example, and I am perhaps unfashionably a fan of F. Scott Fitzgerald.
What's the biggest change you've seen in publishing over the years?
Two big changes to note. The first is the digital revolution and the creation of new channels for delivering content. I still remember a time before we used the word 'metadata'. Those were the days, eh. But the other change, which is more particular to Australia, is the growth in independent publishing. We should all be proud that independents are thriving here, given the challenges we see overseas.
Booksellers and festivals are doing it tough in the wake of COVID-19. How can the industry get through this? How can people help?
I would encourage people to think locally and support their independent booksellers. These knowledgeable and unfailingly amiable folk read extensively and can curate your reading list. Sign up for their newsletters. Festivals are running sessions online, and I know the programmers have lined up brilliant events in the next months. Watch them.
What do the next twenty years look like, for Black Inc. and the industry? What's the biggest challenge?
We have grown so much in 20 years, with flagship publications like Quarterly Essay becoming an established part of the Australian publishing landscape. I'm optimistic that we'll be here in another 20 years. Our team has never been stronger, and we will always publish books to inspire, entertain and provoke discussion. The challenge for all publishers is the same – an increase in books and competition for visibility and bookshelf space. I'm confident we can meet that challenge, though. Because every single book we publish is excellent. Ha.
Any advice to people looking to get into publishing?
Be prepared to work your butt off. But the rewards are there if you are passionate enough about books and understand audiences. Keep an open mind. Most entry-level employees have editorial aspirations, but there are so many areas of publishing that are fulfilling and interesting and they are not always visible from the outside.
---