The Inc. Blot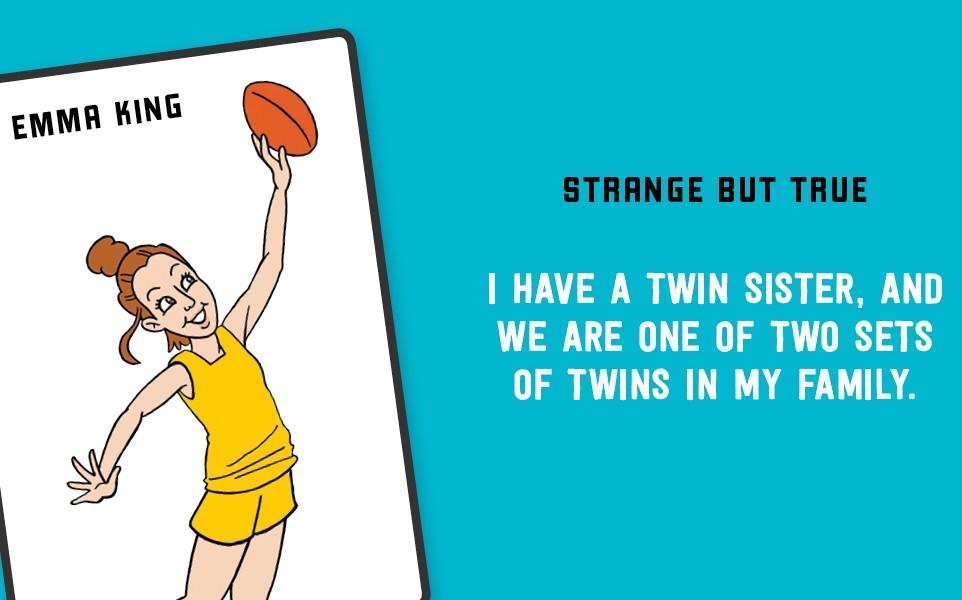 The Inc. Blot > Extract
All About Emma!
I always loved footy. I remember going down and watching my older brother play Auskick at the local club – and getting really jealous and making my dad sign me up the next year. I was probably six then, and started playing when I was seven.
Through Auskick and the juniors to the end of under-14s, there were only two other girls at Quinns District Junior Football Club in Western Australia. All three of us were the same age, but we never played on the same team! Our age level had three different teams, so there was one girl for each.
At the end of under-14s they told me I had to stop playing. They said that we couldn't play with the boys anymore because they were too big and rough. But we were doing fine before that, so I don't know how it was suddenly different.
I took a year off after that, and then I found a girls' footy team and played in a senior girls' competition from age fourteen to fifteen. I took some more time off for Year 12 and then uni and came back to senior girls' footy when I was nineteen, and I stayed there until I was drafted to Collingwood.
If I had to choose, I'd say the whole of 2015 was a highlight for me. I was drafted as the number one pick to the Western Bulldogs representative side. Then my local senior girls' team, Coastal Titans, won the premiership. And in the state game, Western Australia versus Victoria, WA won. That was the first time WA had won in seventeen years! Then I was drafted as a marquee player for Collingwood in the AFLW.
I love everything about footy. It has great aspects on and off the field. On the field you can play as hard as you want, and can get the ball as much as you want. You just have to apply yourself. So in the forward line or around the ground, there's people who take those high marks and make it spectacular to watch, then there's the players who make those hard hits .
Then there's the people who can run it down the wing. I love playing in the ruck, being in the middle of it. Probably my key skill is that I can kick the same distance with both feet. But everyone draws on their best qualities right across the field.
Off the field, you make new friends. There's a great social aspect and it's always fun.
I don't have any superstitions really, except I make sure I eat at certain times before the game. I'm very regular. I have poached eggs on toast with mushrooms for breakfast. Then two hours later I eat a green apple – exactly one hour before the game.
My favourite pump-up music is 'Peanut Butter Jelly' by Galantis and 'Shake it Off' by Taylor Swift. You can't go past Tay Tay.
During the season, we do two club trainings, two gym sessions, and I do an extra running training each week. And of course then we play the game.
I graduated with an architecture degree at the end of 2015 but with all the travel – moving from WA to Victoria – and the football too,
I haven't started working yet. I plan to get a job in the off-season.
As a player, I want to continually develop and always be useful to the team. And I hope to gain leadership skills too. When I'm finished with playing, I think I'd like to move into coaching.
The 2017 NAB AFL Women's Competition is a dream come true. As someone who has played since Auskick, you dream about becoming a professional player when you're younger because you play with boys, and that's what they dream about. And then you reach a certain level and you have to stop and you think that's the end of it. But now the women's competition is starting, everything I dreamt about when I was younger is possible.