News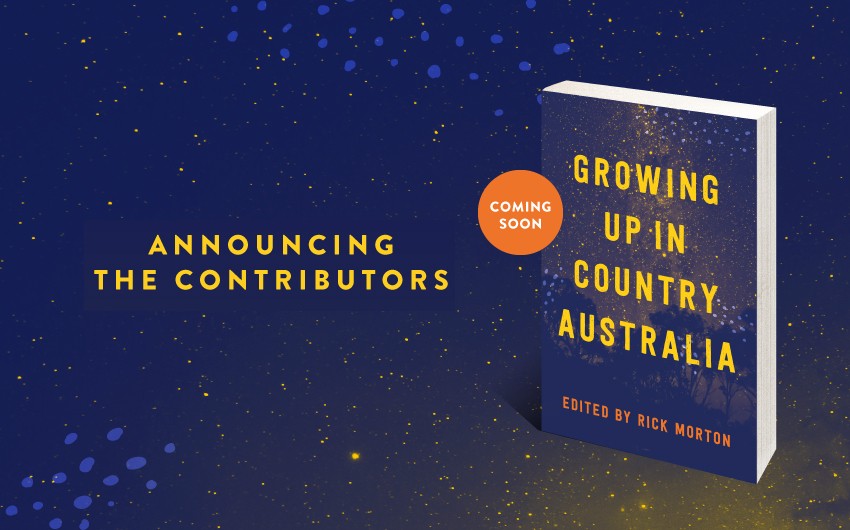 News > News
Announcing the contributors: Growing Up in Country Australia
Black Inc.'s bestselling Growing Up series goes to the country.
Edited by writer and journalist Rick Morton, Growing Up in Country Australia brings together the stories of 40 contributors to depict country Australia as you've never seen it before.
Featuring authors both established and emerging and from a wide range of backgrounds – including First Nations and new migrants – Growing Up in Country Australia is a unique and revealing snapshot of rural life.
Rick Morton says: 'You will find in these pages a colourful and gripping pastiche that updates the experience outside Australia's cities and large regional centres. You will find, despite the absolute variety in these essays, that there is still something ineffable about life in the country.'

The contributors to Growing Up in Country Australia are:

Adelaide Greig is completing a Master of Arts thesis, looking at child-bearing bodies in medieval Arthurian romance.

Alaina Dean grew up on Wiradjuri land, and now lives and writes on Wurundjeri land. She won the 2020 Grace Marion Wilson Emerging Writers Competition, has been published in Galah magazine and is currently writing the next great Australian novel.

Angus Thompson is a journalist and emerging writer.

Annabel Crabb is an ABC writer and presenter. She is the host and creator of ABC shows including Kitchen Cabinet, The House with Annabel Crabb and Ms Represented. Her books include Losing It, Rise of the Ruddbot, The Wife Drought and two Quarterly Essays, Stop at Nothing: The Life and Adventures of Malcolm Turnbull, which won a 2009 Walkley Award, and Men at Work: Australia's Parenthood Trap.

Benjamin Riley is a freelance writer, journalist and researcher interested in radical queer histories and texts, class politics and the cultural legacy of AIDS. He works as a policy advocate for issues relating to HIV and sexual health and has a decade of experience in queer community advocacy and activism.

Bridie Jabour is the author of Trivial Grievances and The Way Things Should Be. She is the opinion editor at Guardian Australia.

Cade Lucas is a teacher, writer and broadcaster living in Melbourne. Originally from Tasmania, he's written for The Guardian, The Age, The Jakarta Post and Crikey, been a journalist at the ABC, driven delivery vans and taught English in China and Indonesia. He has ADHD.

Carly Rawson currently lives, works and studies on the unceded land of the Wathaurong nation. Her work has been published in Verandah, ACE II, Chart Collective and The Big Issue.

Cassie Goodwin is a writer and crafter, originally from rural NSW and now happily residing in Sydney. She spends her days wrangling words and resin into amusing shapes, and can be found online far too frequently.

Claire Baker is an author and researcher living and working on the lands of the Bundjalung nation. She is the author of A Sociology of Place in Australia: Farming Change and Lived Experience.

Dorothea Pfaff is a short-story writer interested in the resilience of the human spirit. She has travelled widely around Australia and currently works as a psychologist in Perth.

Edie Mitsuda is a young woman born and raised on Wilinyu/Nhanagardi Country, Western Australia.

Farz Edraki is an Iranian-Australian writer based in Sydney. She is a deputy editor at ABC Everyday and is studying literature and creative writing at Western Sydney University. She has worked as a TV producer on Tonightly with Tom Ballard, The House and The School That Tried to End Racism.

Fiona White is a writer and teacher who lives in the Macedon Ranges. Her work includes children's stories, short stories and articles.

Frances Olive lives in Sydney with her greyhound, Pegasus. Her writing has appeared in journals and anthologies in Australia, the UK and the US. She holds a PhD in philosophy and is currently completing a Doctorate of Creative Arts. When she isn't reading or writing, she moonlights as a potter.

Gay Lynch writes essays, novels, papers, reviews, and short stories on unceded Boonwurrung land and adjunct to Flinders University. Recent works include Unsettled (2019), an Australian historical novel and 'On Work,' a Covid-inflected essay in Meanjin (Winter 2021). South Australian rural landscapes shaped her thinking and her writing.

Holden Sheppard's debut novel, Invisible Boys, won the 2019 WA Premier's Prize for an Emerging Writer and is now in development as a TV series. In his spare time, Holden is a gym junkie and plays AFL. He lives in Perth with his husband.

Jacinta Dietrich is a Melbourne-based writer and editor. Her first book, This Is Us Now, was published in 2021.

Jay Carmichael is the author of Ironbark, which was shortlisted for the 2019 Victorian Premier's Literary Award for fiction.

Jes Layton is a writer and artist whose work has been published in Junkee, Voiceworks, Kill Your Darlings, Archer and elsewhere. Her story 'Chemical Expression' was published in Underdog: #LoveOzYA Short Stories.

Jessica White is the author of two novels, A Curious Intimacy and Entitlement, and a hybrid memoir about deafness, Hearing Maud. Her short stories and essays have appeared widely in Australian and international literary journals. She is currently a senior lecturer in creative writing and literature at the University of South Australia.

Jo Gardiner is a writer of poetry and fiction who lives in the Blue Mountains in New South Wales. Her novel, The Concerto Inn, was published in 2006.

Joo-Inn Chew works as a doctor in general practice and refugee health in Canberra. She has had stories and poems published in Growing Up Asian in Australia, Growing Up Queer in Australia, Inside Out, Sunday Magazine, Press: 100 Love Letters, First Time Mum, These Strange Outcrops and First. She edited Heart Murmurs: Stories by Canberra GPs.

Karen Lowry is a freelance writer, graphic designer, baker and digital poet. Her publication history includes work in The Digital Review, The Guardian, The Conversation and Australian Poetry Journal. She currently works as a sessional academic at Curtin University.

Laura Jean McKay is the author of The Animals in That Country, which won The Arthur C. Clarke Award and The Victorian Prize for Literature 2021. She is also the author of Holiday in Cambodia and a lecturer in creative writing at Massey University.

Lech Blaine is the author of the memoir Car Crash and the Quarterly Essay Top Blokes. His writing has appeared in The Monthly, Guardian Australia, The Best Australian Essays, Griffith Review, Kill Your Darlings and Meanjin. He was an inaugural recipient of a Griffith Review Queensland Writing Fellowship.

Lily Chan's parents were Chinese migrants who settled in the Atherton Tablelands and opened a Chinese restaurant. After completing university in Brisbane, she moved to Sydney for work, where she currently lives with her husband and young family.
MA Plazzer is an audio producer, writer and creative collaborator. The co-founder of SquareSound, she works with authors and actors to bring stories to life.

Meg Sattler has been published in media and journals in Europe, Australia and North America. Her writing explores the everyday, often women's relationships. She lives between Europe and Central Victoria and is working on her first novel.

Melinda Mann is a proud Darumbal and South Sea Islander, who has forged a career advocating for equitable and accessible education. She is an adjunct professional fellow at CQUniversity.

Michael Winkler is a writer and reviewer. He has been published in The Sydney Review of Books, Australian Book Review and Meanjin. His most recent publication, the non-fiction novel Grimmish, was described by Nobel Laureate J.M. Coetzee as 'the strangest book you are likely to read this year'.

Olivia Guntarik, originally from Borneo, is a descendent of the Dusun-Murut Indigenous hilltribes of East Malaysia. She spent her teenage years in Bendigo on Dja Dja Wurrung Country, before returning to her first homeland to work as a writer. She teaches popular culture and music at RMIT University in Melbourne.

Sam Elkin is a writer and radio maker living in Naarm. His work has been published in the Griffith Review and Kill Your Darlings. He is a co-editor of the forthcoming anthology Nothing to Hide: Voices of Trans and Gender Diverse Australia, and he is working on a debut memoir.

Samantha Leung is a Fremantle-based writer, editor and storyteller who grew up in North Queensland, Darwin and regional Western Australia. She performs at oral storytelling nights and works in events and marketing in arts and education.

Sami Shah is a multi-award-winning comedian, writer, journalist and broadcaster.

Tim Bocquet is part of a fantastically odd family, from beautifully crafted surrounds, writer of cheerfully befuddled prose, with a handsomely supportive man and a reasonably middle-aged dog.

Tom Plevey is an Asian-Australian writer and journalist, born and living in New England, New South Wales.

Tony Armstrong is an Australian journalist and former professional Australian rules footballer. He is an ABC News Breakfast host and a sports producer with ABC radio and television.

Youssef Saudie is a journalist from Melbourne. He has worked with ABC's Asia-Pacific and ABC Alice Springs. He just finished his bachelor's degree in journalism at RMIT University.

Growing Up in Country Australia will be released in April 2022. Pre-order your copy today.

About the author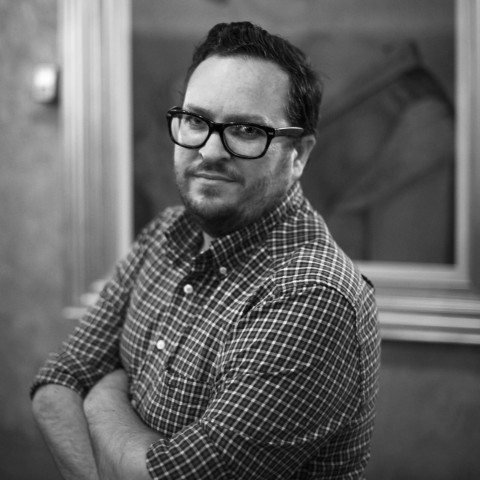 Rick Morton is a senior reporter for The Saturday Paper, a regular guest on ABC's The Drum and an award-winning author of three non-fiction books: 100 Years of Dirt, On Money and My Year of Living Vulnerably.
More about Rick Morton