News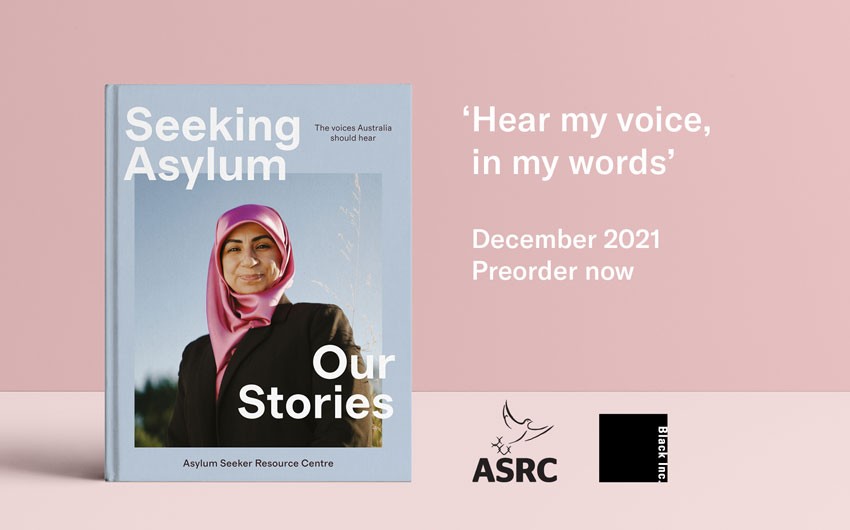 News >
Black Inc. and the Asylum Seeker Resource Centre amplify the stories of people seeking asylum
Black Inc. in partnership with the Asylum Seeker Resource Centre (ASRC) will soon publish Seeking Asylum: Our Stories (30 November 2021), a beautifully illustrated hardback which captures the stories of those who have lived the experience of seeking asylum.
In their own voices, contributors share how they came to be in Australia, and explore diverse aspects of their lives: growing up in a refugee camp, studying for a PhD, changing attitudes through soccer, being a Muslim in a small country town, campaigning against racism, surviving detention, holding onto culture, dreaming of being reunited with family.
There are stories of love, pain, injustice, achievement and everything in between. Accompanied by beautiful portrait photographs, these stories of seeking asylum show the depth and diversity of people's experience and trace the impact of Australia's immigration policies.
Seeking Asylum also includes a foreword by Liliana Maria and an essay by Abdul Karim Hekmat on the human, social and political impact of Australia's treatment of people seeking asylum. With an afterword by ASRC Founder and CEO Kon Karapanagiotidis AO and supporting material demystifying Australia's current policies from Julian Burnside AO QC, Seeking Asylum: Our Stories redefines assumptions about people who have sought asylum and inspires readers to take action to create a more welcoming Australia.
100% of the proceeds from Seeking Asylum: Our Stories will be reinvested by the ASRC to fund projects that build people's capacity to tell their story in their own way and provide opportunities to amplify their voices. One area of investment will continue to be the ASRC's Community Advocacy and Power Program (CAPP). The CAPP training program, offered nationally, provides participants with skills in advocacy, community organising / mobilising, public speaking and effective media engagement.
Kirstie-Innes Will, Publisher, Black Inc. says:
'Seeking Asylum: Our Stories introduces readers to the lives of some incredible people – from Betelhem, who spent four years in detention and now fights for the rights of other detainees, to Ghofran, who gained her PhD as a mature-age student and now lectures in biomedicine. Through their stories, we grasp the complexity and diversity of lived experience for people seeking asylum.'
Caitlin Yates, Publishing Director, Black Inc. says:
'Black Inc. has admired and supported the important work of the Asylum Seeker Resource Centre for many years, and we are honoured to partner with them to publish Seeking Asylum: Our Stories in December 2021 to commemorate the ASRC's twentieth year. Black Inc. is delighted to provide all publishing services, including editorial, design, sales, marketing and publicity, completely gratis.'
Kon Karapanagiotidis, CEO, Asylum Seeker Resource Centre says:
'It's an honour and privilege for us to support people's storytelling, in their own words. Refugees and people seeking asylum – the most courageous, resilient and resourceful people who love their families so deeply that they have crossed the earth to find sanctuary, have a right to be heard. These powerful stories are rich in diversity and centered in the voices of people whose experience all Australians can listen and learn from.'
Enquiries:
For all media enquiries please contact Kate Nash, Black Inc., 0406 997 647 or [email protected]
About us:
Black Inc. is an independent Melbourne-based publisher of literary nonfiction and fiction, as well as the Quarterly Essay and Australian Foreign Affairs journals.
The Asylum Seeker Resource Centre (ASRC) is Australia's largest independent human rights organisation supporting people seeking asylum. The ASRC's programs support and empower people seeking asylum to maximise their own physical, mental and social wellbeing, while other initiatives champion the rights of refugees and unite communities to create lasting social and policy change.
The ASRC is proud to support and empower 7000 people seeking asylum each year, and is powered by a community of committed volunteers and supporters.