News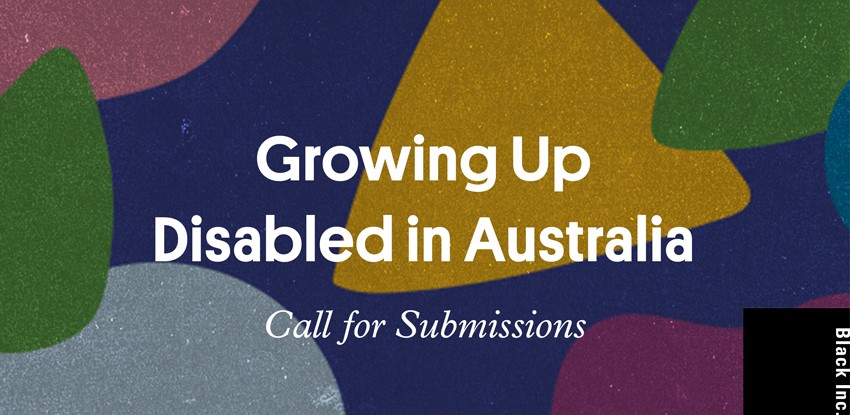 News >
Call for submissions: Growing Up Disabled in Australia
Black Inc. is pleased to annouce a new anthology in the Growing Up series.
A new anthology is open for submissions from all writers in Australia who identify as disabled, deaf, Deaf or chronically ill (under the social model of disability).
The collection will be edited by blogger and appearance activist Carly Findlay, author of the forthcoming memoir Say Hello. Carly has been widely published, including in The Guardian, The Age, The Sydney Morning Herald, Daily Life, Mamamia and Frankie.
We are looking for non-fiction pieces that deal with any aspect of growing up chronically ill, deaf, Deaf or disabled. Submissions can be in any manner, tone or style, but should not be academic or scholarly. They should be written in first-person and be honest accounts of lived experience – positive, negative or anything in between.
Editor Carly Findlay says: 'I want young disabled people to read this anthology and know what's possible for them, to see that other disabled people have had similar experiences, and to feel the impact of visibility and positive representation. While I have had a life-long chronic illness, I first identified as chronically ill and disabled when I heard other chronically ill and disabled people's stories.'
A donation from proceeds of the anthology will be given to Children and Young People with Disability Australia.
Submissions should be between 1000 and 4000 words, and must be received by 5pm on Friday, 31 May 2019. Late entries will not be accepted.
Please email submissions to [email protected] . Submissions will be accepted as Word files or audio files.
FAQ
What is the social model of disability?
According to the social model of disability, disability is socially constructed. This is in contrast to the medical model, where a 'disability' is a health condition managed by medical practitioners. According to People with Disability Australia: 'The social model sees "disability" is the result of the interaction between people living with impairments and an environment filled with physical, attitudinal, communication and social barriers. It therefore carries the implication that the physical, attitudinal, communication and social environment must change to enable people living with impairments to participate in society on an equal basis with others.'
What if I have an impairment or chronic illness but don't like being called 'disabled' / don't identify as 'disabled'?
Please submit anyway – and feel free to discuss this in your piece. We know that not everyone agrees on what terms should be used.
Do I need to have been born in Australia?
No – but you should either live here currently or have spent a substantial part of your life here.
What does 'growing up' mean?
'Growing up' can refer to childhood, adolescence or your evolving identity as an adult.
I've never been published before. Does this matter?
No.
Will you accept poetry?
Yes, as long as it is based on your lived experience. Poems should be no longer than seventy lines.
Should I avoid writing about abuse / self-harm / sex / illegal drugs, etc?
We encourage all contributors to write honestly about their experiences. As the anthology is partly aimed at teenagers, during the edit process we may suggest some modifications to avoid unnecessarily explicit content but pieces will not be excluded on this basis.
Where can I go for help to write my story?
The following organisations can offer advice and support:
Accessible Arts NSW http://www.aarts.net.au/
Writers Victoria – Write-ability https://writersvictoria.org.au/writeability
Access 2 Arts SA https://access2arts.org.au/ https://access2arts.org.au/project/writing-me/
Arts Access Australia https://artsaccessaustralia.org/
Belconnen Arts Centre https://www.belconnenartscentre.com.au/
Arts Access Victoria https://www.artsaccess.com.au/
Arts Access Darwin https://artsaccessdarwinblog.wordpress.com/
Access Arts QLD http://accessarts.org.au/ DADAA WA https://www.dadaa.org.au/
Incite Arts https://incitearts.org.au/
Writing NSW https://writingnsw.org.au/support/writers-with-disability/
Scope Australia writers program from 2015 https://www.scopeaust.org.au/news-event/calling-writers-artists/'
Can I write under a pseudonym?
Yes, but you must sign your contract using your real name so please give us both on submission.
Will I receive payment if my piece is accepted?
Yes, all contributors will be paid.
When will I find out if my piece has been accepted?
Due to the large number of submissions, selection can take quite a long time. You will receive a response letting you know if your piece has been accepted or not by 1 October 2019.
If you have further questions, enquiries should be addressed to Kirstie Innes-Will: [email protected]
If you would prefer to listen to the above, please click the below link.
Watch Carly talk about submitting to anthologies in the below clip from Writers Victoria: