News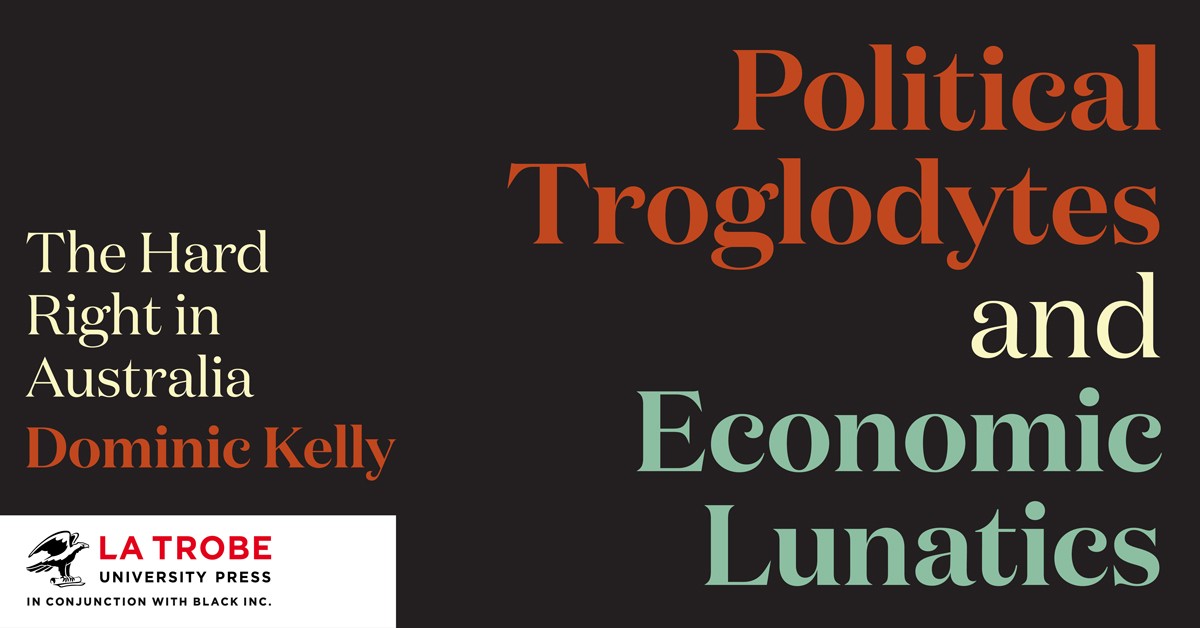 News > Extract
Extract: Political Troglodytes and Economic Lunatics
'Australians live in an age in which hardline conservative views on a range of issues set the terms of public policy, sometimes in direct opposition to the desires of the public at large. Why is this so?'

Read an extract from Dominic Kelly's new book Political Troglodytes and Economic Lunatics.
5 December 2016. The Australian Minister for Environment and Energy, Josh Frydenberg, suggests that the government will consider implementing an emissions intensity scheme – effectively a carbon price for power companies – as a way to reduce carbon pollution. The next day, after a furious response from the conservative wing of the Liberal Party, Frydenberg backs down. Prime Minister Malcolm Turnbull denies that the scheme was ever under consideration.
27 October 2017. The Turnbull government announces its rejection of the Uluru Statement from the Heart, which called for the establishment of a First Nations "Voice to Parliament," enshrined in the Constitution. The prime minister says that such a proposal is inconsistent with Australian notions of equal civil rights, and infuriates Indigenous people by misleadingly referring to a potential "third chamber of parliament."
1 January 2018. Turnbull, who was chairman of the Australian Republican Movement in the 1990s, is asked about the prospects of Australia becoming a republic in the near future. The once passionate republican is notably cautious, warning that "the Australian people have shown themselves to be very conservative when it comes to constitutional change. There is no point pretending that there is an appetite for change when there isn't one at the moment." 1 But he nevertheless floats the idea of a plebiscite or postal survey to begin the process, should Queen Elizabeth die during his prime ministership. Faced with an insurgency from the Liberal Party right, Turnbull is forced to walk back his remarks within twenty- four hours.
25 January 2018. The Fair Work Commission, applying the legislation set out in the Fair Work Act 2009, orders New South Wales rail workers to abandon their indefinite overtime ban and planned twenty- four- hour strike on the grounds that both actions "threaten to endanger the welfare of part of the population" and "cause significant damage to the economy of Sydney." In other words, an institution created by the Rudd Labor government uses Labor- backed legislation to effectively rule what many view to be legitimate industrial action unlawful. In response, the Australian Council of Trade Unions secretary, Sally McManus, declares that "the basic right to strike in Australia is very nearly dead."
24 August 2018. Having spent the majority of his prime-ministership appeasing the hard right of the Liberal–National Coalition, Malcolm Turnbull is torn down by his own party. Conservatives hope to install Minister for Home Affairs Peter Dutton as prime minister, but they are thwarted by the marginally more moderate treasurer, Scott Morrison.
27 August 2018. Morrison chooses Angus Taylor, a prominent climate change sceptic and anti- renewable energy campaigner, as his energy minister. Morrison says Taylor will be "the minister for getting energy prices down," while resources minister Matt Canavan calls for "a new era of energy and resources abundance." 4 Morrison's chief of staff is John Kunkel, who was the deputy CEO of the Minerals Council of Australia for six years and a senior political lobbyist for mining giant Rio Tinto for two.
On the same day Morrison horrifies Indigenous leaders by appointing Tony Abbott as "special envoy for Indigenous affairs," seemingly a consolation prize for being left out of the ministry. "Many of us don't have any confidence in Tony Abbott's return to save us," says Jackie Huggins, cochair of the National Congress of Australia's First Peoples. "We reflect on his history of supporting harmful and paternalistic policies relating to our people. One of his accomplishments has been to rob our people of a right to self- determination."
*
As these fragments from contemporary Australian politics all illustrate in different ways, Australians live in an age in which hardline conservative views on a range of issues set the terms of public policy, sometimes in direct opposition to the desires of the public at large. Why is this so? The answers to this question are many and multifaceted, but this book illuminates one of them: the powerfully influential role of a small group of committed political activists and the remarkably effective organisations they created.
About the author
Dominic Kelly's writing has appeared in The Age, The Monthly, Guardian Australia, Meanjin, The Saturday Paper and Inside Story. He is an honorary research fellow at La Trobe University. Political Troglodytes and Economic Lunatics is his first book.
More about Dominic Kelly