News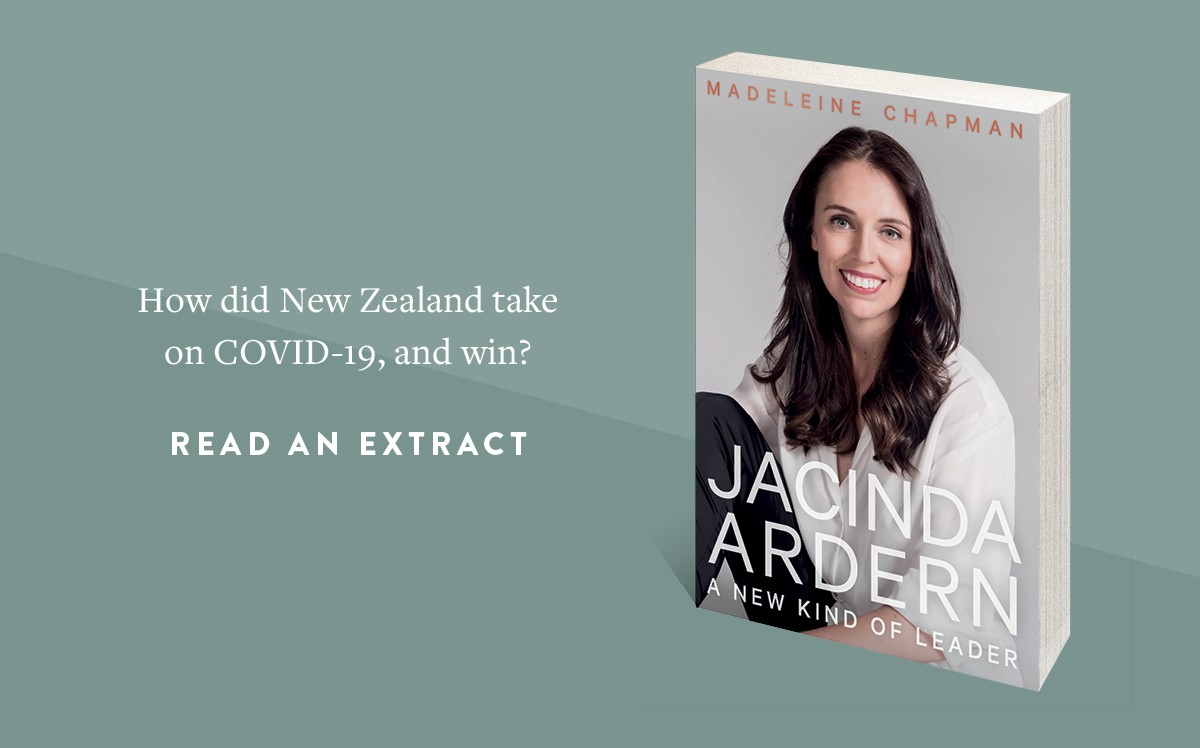 News >
How did New Zealand take on COVID-19, and win?
Jacinda Ardern set the world standard in reacting swiftly and strictly to the coronavirus pandemic. Read an extract from the updated edition of Jacinda Ardern: A New Kind of Leader, now including a chapter on COVID-19 and the landslide 2020 election victory.
'Evening, everyone. I thought that I would jump online quickly and just check in with everyone, really, as we all prepare to hunker down for a few weeks.'
It was the evening of 25 March and New Zealand was three hours away from entering a nationwide lockdown. Jacinda Ardern was back on Facebook, broadcasting live from her home. Given 2020 was an election year, this wasn't unexpected. Live videos had been Ardern's strong suit in 2017, and it was safe to assume they'd be deployed again in the 2020 campaign. But instead of announcing a new policy in a suit, Ardern was answering questions about a global pandemic in a comfy jumper.
Ardern had been in contact with scientists and health advisers since January as they tracked the spread of COVID-19. To most Kiwis, the virus still felt very far away from little old New Zealand at the bottom of the world. But it was only a matter of time before the rapidly spreading virus reached New Zealand shores. On 28 February, the nation reported its first case of COVID-19, in a passenger on a flight from Iran. Inevitably, there would be more cases, so the government needed to act.
In mid-March, the World Health Organization had yet to advise countries to close their borders. But New Zealand, along with many other countries, had put restrictions in place for those travelling through and from mainland China, then Iran, Italy and South Korea. And on 14 March, Ardern announced that everyone entering the country, except those travelling from the Pacific Islands (where no cases had been reported), must self-isolate for fourteen days. It was the first indication of how strong the government response would be. The very next day, tourists from Europe arrived in the country and calmly told reporters that they would not self-isolate, in clear defiance of the rules. When asked about it, Ardern was unequivocal in her response: 'We have the ability to quarantine them – put them in a facility, quarantine them, have a police officer stand outside the door and make sure they don't leave. But I've also asked the question whether I have the power to deport as well.'
Four days later, for the first time in its history, New Zealand closed its borders to everyone but returning citizens and permanent residents. A week of strategically staggered announcements followed, culminating in a complete lockdown of the country once community transmission had been confirmed. On Thursday, the borders closed. On Saturday, Ardern gave an official address to the nation from her office. She spoke alone and directly to the camera, introducing a four-level alert system. Level four would involve all non-essential citizens quarantining at home. Ardern explained that currently the country was at level two. The address was both deeply serious and strangely reassuring.
On Monday, Ardern announced that the nationwide alert had been raised to level three and New Zealand would move to a level- four lockdown at midnight on 25 March, in two days' time. 'These decisions will place the most significant restrictions on New Zealanders' movements in modern history,' she explained. 'But it is our best chance to slow the virus and to save lives.' Seemingly overnight, bus stops, billboards, television ads, radio ads, and even road signs all over the country started advertising the same idea. Stay home. Save lives.
Ardern's messaging was deliberately simple, with catchphrases repeated over and over throughout her press conferences. 'Go hard, go early.' 'Stay in your bubble.' 'Team of five million.' 'Be strong but be kind.'
And it worked. Incredibly, there was virtually no opposition to the lockdown. Of course there were concerns about the economy, but the lockdown was announced with measures in place to limit hardship. A twelve-week wage subsidy scheme (which would later be extended) was established, with employers able to apply on behalf of their workers. Self-employed contractors could apply in sixty seconds and receive a lump sum in their bank account within forty-eight hours. A rental freeze was announced on residential properties. All of this conveyed that the government was taking the situation very seriously, and so should you.
By the time every mobile phone in the country lit up with a civil defence emergency alert on 25 March, reminding everyone of the lockdown, the expectations were widely understood. The alert read:
This message is for all of New Zealand. We are depending on you. Follow the rules and STAY HOME. Act as if you have COVID-19. This will save lives.
Remember:
Where you stay tonight is where YOU MUST stay from now on.
You must only be in physical contact with those you are living with
It is likely level 4 measures will stay in place for a number of weeks.
Let's all do our bit to unite against COVID-19. Kia Kaha.
For the next four weeks, New Zealand froze. Essential workers such as hospital, government and supermarket staff went to work and everyone else stayed home in their bubbles. A walk or run for exercise was allowed, but police patrolled the motorways, stopping anyone trying to drive too far from home. One man filmed himself coughing on strangers at the supermarket. He was universally condemned and swiftly arrested. An online form was set up for members of the public to report potential lockdown breaches. Within two days, over 10,000 reports were filed, revealing New Zealanders to be both deeply concerned about their collective health and huge narcs. Every day at 1 pm, Ardern and the director-general of health, Dr Ashley Bloomfield – or Bloomfield alone – provided updates on new cases, deaths and total active case numbers. They also provided regular guidance on distancing, hand washing and what to do if you felt unwell. Bloomfield proved an equal match for Ardern, and the perfect partner to front the pandemic response alongside her. His dry delivery of the case updates and health guidance complemented Ardern's more personal style of communication well. So well that, with little else to distract them during lockdown, New Zealanders quickly deified him, dubbing the 1 pm briefings 'The Ashley Bloomfield Show' and making 'ashley bloomfield wife' a top auto-fill response on Google.
Meanwhile, Ardern was back making global headlines. The comprehensive lockdown was applauded around the world, especially in countries where the virus already had a strong grip. And when Ardern announced that all government ministers, including herself, would take a 20 per cent pay cut for six months as an act of solidarity with New Zealanders whose livelihoods were affected by the lockdown, the international headlines continued. Bloomfield and opposition leader Simon Bridges announced they too would take a pay cut. Eighty per cent of (at least) $160,000 is still a large salary. But it was a gesture that resonated around the world and Ardern once again proved that acts of solidarity and empathy are more powerful than most politicians have been led to believe.
And then Ardern declared the Easter Bunny an essential worker. During a daily press briefing in the lead-up to Easter, a reporter passed on a child's concern about the safety of the Bunny's work. 'Have you considered an exemption for the Easter Bunny? Because of course he would be breaking the bubbles of many families.' Ardern smiled as she replied: 'You'll be pleased to know that we do consider both the Tooth Fairy and the Easter Bunny to be essential workers.' Speaking directly to the children watching at home, she went on to explain that given the current situation, the Bunny may find it hard to reach every house, but she encouraged children to draw their own Easter eggs and place them in their windows for other children to spot on their walks.
Ardern and Bloomfield set a high standard for all New Zealanders, in a way that encouraged each citizen to play their part. And New Zealanders responded. Nobody wanted to let down the team of five million. It took ten days of lockdown for the daily case numbers to reach their peak (eighty-nine new cases on 2 April and 5 April), and once they started to fall, they fell fast. Each improvement was celebrated, with Ardern quick to give credit to everyone watching at home. 'In the face of the greatest threat to human health that we have faced in over a century, Kiwis have quietly and collectively implemented a nationwide wall of defence,' she said on 9 April. 'You are breaking the chain of transmission and you did it for each other.'On 20 April, two days before the scheduled end to the level-four lockdown, Ardern announced that New Zealand wouldn't move to level three until 27 April, despite daily case numbers dropping into the single digits. Yet few people complained. In fact, a poll found that 66 per cent of respondents thought the timing was 'about right' and 22 per cent thought it was too early.
The leadership of Ardern and Bloomfield played a major part in the nationwide buy-in to the lockdown, but it also helped that there was a stark contrast playing out overseas. From the safety and comfort of their homes, New Zealanders watched as UK prime minister Boris Johnson first refused to limit contact with strangers he met and then was hospitalised after testing positive for the virus. They watched as case numbers in the United States rose by the thousands every day and as President Trump publicly dismissed the severity of the virus. World leaders claiming to know better and being comprehensively proven wrong served as great reassurance to New Zealanders that their nation was doing the right thing.

---
Jacinda Ardern: A New Kind of Leader is out now.
About the author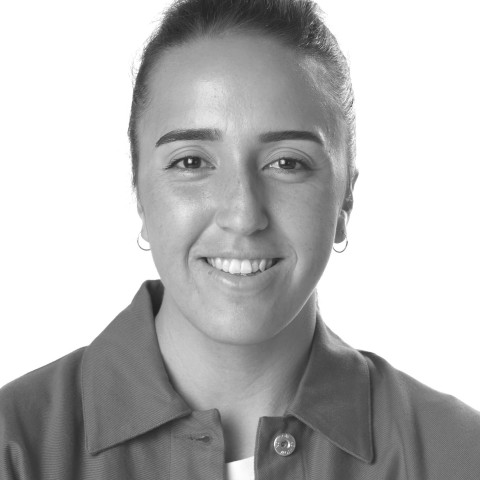 Madeleine Chapman is a New Zealand writer of Sāmoan, Chinese and Tuvaluan descent and the author of Jacinda Ardern. She is also the co-author of Steven Adams' bestselling autobiography My Life, My Fight (Penguin Random House NZ) and was a senior writer at The Spinoff until 2020. Chapman was named the 2018 Young Business Journalist of the Year and the 2019 Humour Opinion Writer of the Year. She lives in Porirua with her parents.
More about Madeleine Chapman