News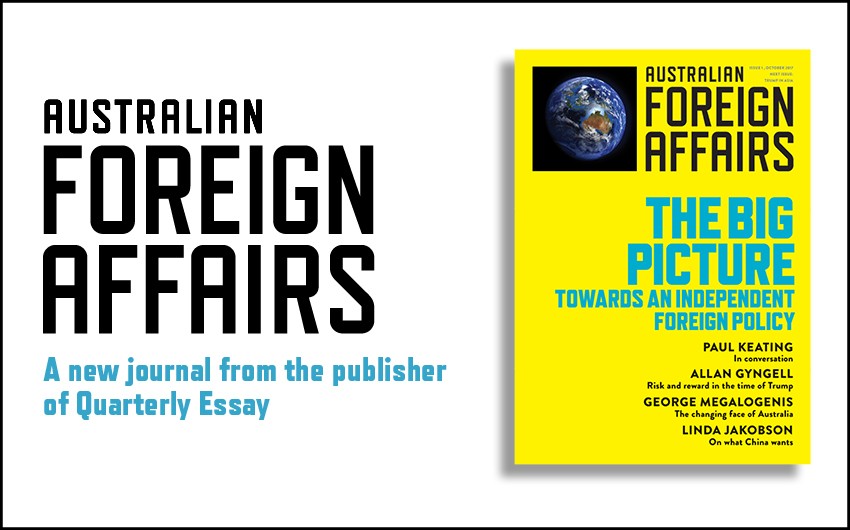 News > News
Introducing Australian Foreign Affairs
'We need to determine a foreign policy of our own – one that looks after Australia's interest in the new order; an order which will have China as its centre of gravity.' —Paul Keating

The world is changing, and so is Australia's place in it. A large number of general readers are fascinated by the dynamics of a rising China and a disengaging United States, in a world that is arguably less stable than at any time since World War II. Australian Foreign Affairs will make foreign affairs available and accessible to a large audience, in the way that Quarterly Essays make serious politics popular.

'There has never been a more critical time for Australia to contemplate its place in the world. My intention is that Australian Foreign Affairs will serve as a forum for our most adventurous and deepest strategic thinkers to interrogate foreign policy,' said Morry Schwartz, Publisher.

Under the editorship of Jonathan Pearlman, Australian Foreign Affairs will encourage debate and will be open to divergent views. Its style and presentation will be clear, succinct and free of jargon. Its readers will need no other qualification than an interest in significant foreign developments affecting Australia and the region and a curiosity about the possible outcomes and responses.

'Australia is increasingly affected by events beyond its borders, especially as global power and wealth shifts towards Asia,' said Jonathan Pearlman, Editor.

'The challenges facing Australia and the region are varied and complex, but they are also fascinating. There is a strong need for a publication that explores these challenges and debates the ways Australia should respond,' he said.

In the inaugural issue – The Big Picture: Towards an Independent Foreign Policy – Australia's top thinkers on foreign affairs address the most significant foreign affairs dynamics affecting Australia today, with contributions by Paul Keating; Allan Gyngell, who is one of the country's most experienced foreign affairs experts; Linda Jakobson, one of the world's leading China watchers; and George Megalogenis, a journalist, political commentator and expert analyst of changes in Australia's social fabric.