News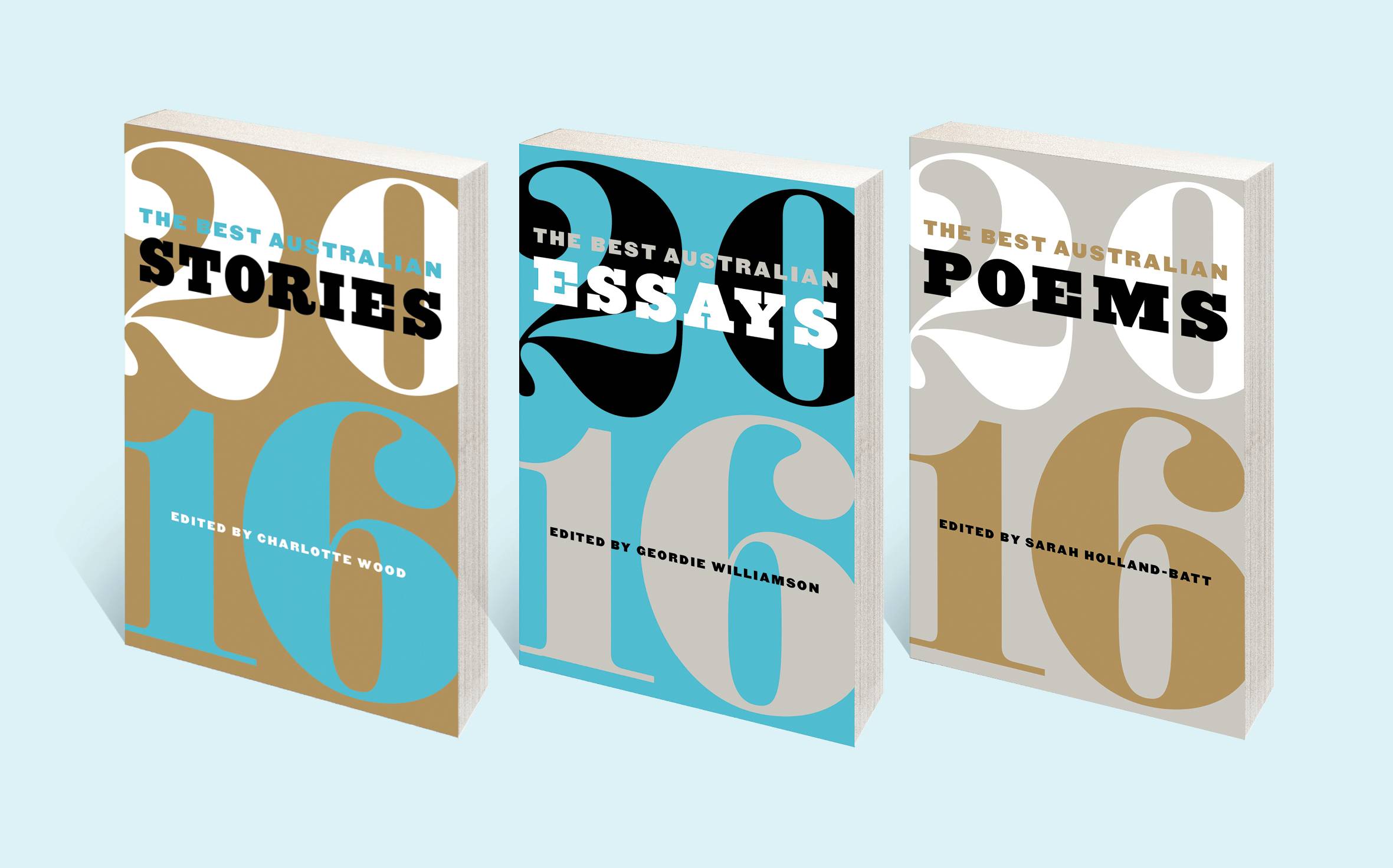 News > Announcements
Introducing the Best Australian Stories, Essays and Poems 2016
Every year for 18 years, Black Inc. has delighted in publishing the Best Australian Stories, Essays and Poems from our country's finest writers. It's hard to believe that it's the 18th year that we've published these annual anthologies – where does the time go – but we're enormously proud of how this series has evolved to showcase the strength and diversity of Australian writing. Edited by leading figures in the literary community, each collection ranges widely in style and subject matter; spilling over with pieces which approximate the human experience so succinctly that they're liable to leave the reader a little out of breath.
The editors in 2016 were Charlotte Wood (Stories), Geordie Williamson (Essays) and Sarah Holland-Batt (Poems). Charlotte Wood is the author of The Natural Way of Things, which won the 2016 Stella Prize, the 2016 Indie Book of the Year, and the ABIA Reader's Choice Award. Geordie Williamson is a Pascall Prize winning essayist and critic who is also the publisher of Pac Macmillan's Picador imprint and the author of The Burning Library. Sarah Holland-Batt is the author of The Hazards and Aria as well as the poetry editor of Island.
With the books officially released on 7th November, we thought we'd share with you what each editor had to say about the selection process and their personal highlights.
Charlotte Wood:
'It has been both a pleasure and a serious challenge for me to choose this year's Best Australian Stories. Having to leave out so many excellent works was heartbreaking, but I'm thrilled to be able to include a few emerging artists alongside some of our most respected short story writers. Among the former, Kate Ryan's 'Where Her Sisters Live' – with its elegant cadences and muted threats, a perfect evocation of early adolescence – was one that gripped me immediately, proving that 'the voice does not just tell the story, it is the story'. In the latter camp, the collection's first story, 'Monster Diary', shows Paddy O'Reilly at her strange, unsettling best. She's a true original; as soon as I read this piece I knew I wanted it to open the book. It introduces what I think is a fine collection of ghosts, monsters and visitations.'
Geordie Williamson:
'The editing process was complicated this year in a good way – by the sheer weight of submissions – evidence not only of the robustness of our journalism and literary magazines, but of the number of issues we feel bound to worry at and debate. That these are interesting times is borne out by essays on everything from climate emergency to Manus Island, indigenous affairs in Northern Australia to neoliberalism in North America. I've tried to dial through the full spectrum of issues and pick out the strongest signals from among the static. The essay that moved me most belonged to Behrouz Boochani. It is a virtue of this anthology that by the simple act of inclusion, the words of a Kurdish-Iranian may meet on equal terms with the broad Australian community of writers and thinkers.'
Sarah Holland-Batt:
'In selecting the Best Australian Poems for 2016, I found myself exhilarated by what I read; by the dynamism and diversity of the poetry being published in Australia at present. It was no small task to whittle the vast number of very fine poems... and while reaching my final selection included no small measure of agonising, I'm delighted by what that distillation process has produced. I discovered several poets I had not yet encountered, among them Evelyn Araluen, who writes movingly of the continuous cultural knowledge embedded in language and country in 'Learning Bandjalung on Tharawal'. Meredi Ortega's 'Cyborg Me' offers a mordant feminist take on designer bodies and biotechnology, while a characteristically fleet-footed poem by David Malouf centres on an otherworldly encounter with a scent 'so heavy' it causes him to invent wild scenarios to explain its presence. Its mixture of rationalism and mystery seemed to me emblematic of the heady, confounding and enigmatic encounter offered to us by poetry.'
And now, here are the brilliant contributors for 2016.
Stories:
Paddy O'Reilly, Tegan Bennett Daylight, Gregory Day, Elizabeth Harrower, Ellen van Neerven, Nasrin Mahoutchi, Jack Latimore, Brian Castro, Georgia Blain, Julie Koh, Trevor Shearston, Fiona McFarlane, Jennifer Down, Elizabeth Tan, Michael McGirr, Kate Ryan, James Bradley, Michelle Wright, David Brooks and Abigail Ulman
Essays:
Maggie Mackellar, Ashley Hay, Rebecca Giggs, Anwen Crawford, Melinda Harvey, Mireille Juchau, Fiona Wright, Vicki Hastrich, Helen Garner, Tegan Bennett Daylight, Jennifer Mills, Fiona McGregor, Michelle de Kretser, Jo Chandler, Anna Spargo-Ryan, Peter Goldsworthy, Gregory Day, J.M. Coetzee, James Bradley, Galarrwuy Yunupingu, Richard Flanagan, Adam Rivett, Michael Winkler, Behrouz Boochani, Martin McKenzie-Murray, Guy Rundle, Clive James, Julian Burnside and Kim Scott
Poems:
Martin Harrison, Robert Adamson, Jordie Albiston, Adam Aitken, Chris Andrews, Evelyn Araluen, Judith Beveridge, Ken Bolton, Peter Boyle, Michael Brennan, Lisa Brockwell, David Brooks, Kevin Brophy, Lachlan Brown, Pam Brown, Joanne Burns, Michelle Cahill, Elizabeth Campbell, Bonny Cassidy, Julie Chevalier, Eileen Chong, Aidan Coleman, Stuart Cooke, MTC Cronin, Nathan Curnow, Sarah Day, Luke Davies, Joel Deane, Jelena Dinic, Dan Disney, Lucy Dougan, Laurie Duggan, Ali Cobby Eckermann, Stephen Edgar, Anne Elvey, Michael Farrell, Liam Ferney, Toby Fitch, Lionel Fogarty, Tina Giannoukos, Lisa Gorton, Robert Gray, Phillip Hall, Natalie Harkin, Dennis Haskell, Paul Hetherington, Dominique Hecq, Fiona Hile, LK Holt, Andy Jackson, Lisa Jacobson, Clive James, Virginia Jealous, A. Frances Johnson, Jill Jones, Kit Kelen, Cate Kennedy, John Kinsella, Andy Kissane, Shari Kocher, Simeon Kronenberg, Verity Laughton, Anthony Lawrence, Bronwyn Lea, Emma Lew, Kate Lilley, Debbie Lim, Kate Llewellyn, Cameron Lowe, Jennifer Maiden, Caitlin Maling, David Malouf, David McCooey, Kate Middleton, Peter Minter, Les Murray, TT.O., Ella O'Keefe, Meredi Ortega, Geoff Page, Charmaine Papertalk-Green, Felicity Plunkett, Claire Potter, Peter Rose, Hessom Razavi, Robyn Rowland, Gig Ryan, Tracy Ryan, Omar Sakr, Jaya Savige, Thomas Shapcott, Alex Skovron, Maria Takolander, John Tranter, Tim Thorne, Ellen van Neerven, Ann Vickery, Chris Wallace-Crabbe, Simon West, Petra White, Jessica L. Wilkinson, Fiona Wright, Ouyang Yu, Fay Zwicky and Billy Marshall Stoneking
Pre-order your books below, and help us celebrate 18 years of Australian writing that surprises, unsettles and inspires by sharing what you're looking forward to reading with us on Facebook, Twitter or Instagram.