News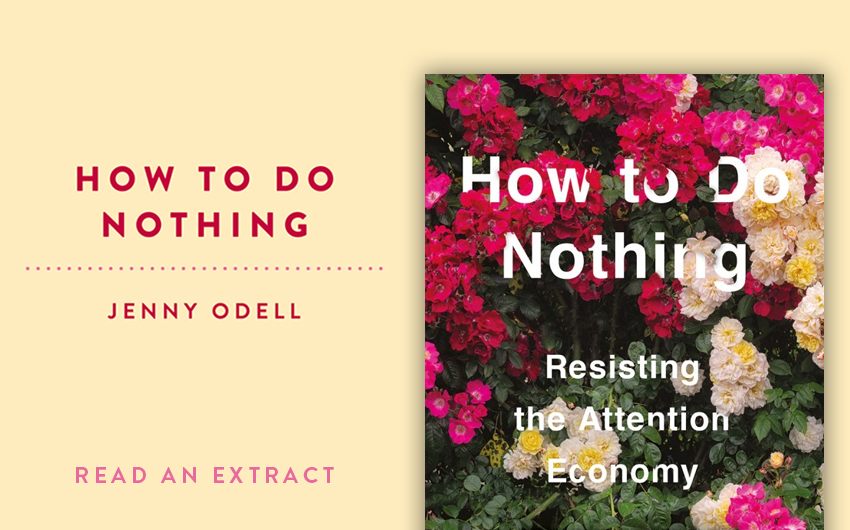 News >
Read an extract: How to Do Nothing
Read the introduction to Jenny Odell's anti-productivity manifesto. How to Do Nothing is out now.
Nothing is harder to do than nothing. In a world where our value is determined by our productivity, many of us find our every last minute captured, optimized, or appropriated as a financial resource by the technologies we use daily. We submit our free time to numerical evaluation, interact with algorithmic versions of each other, and build and maintain personal brands. For some, there may be a kind of engineer's satisfaction in the streamlining and networking of our entire lived experience. And yet a certain nervous feeling, of being overstimulated and unable to sustain a train of thought, lingers. Though it can be hard to grasp before it disappears behind the screen of distraction, this feeling is in fact urgent. We still recognize that much of what gives one's life meaning stems from accidents, interruptions, and serendipitous encounters: the "off time" that a mechanistic view of experience seeks to eliminate.
Already in 1877, Robert Louis Stevenson called busyness a "symptom of deficient vitality," and observed "a sort of dead-alive, hackneyed people about, who are scarcely conscious of living except in the exercise of some conventional occupation." And, after all, we only go around once. Seneca, in "On the Shortness of Life," describes the horror of looking back to see that life has slipped between our fingers. It sounds all too much like someone waking from the stupor of an hour on Facebook:
Look back in memory and consider … how many have robbed you of life when you were not aware of what you were losing, how much was taken up in useless sorrow, in foolish joy, in greedy desire, in the allurements of society, how little of yourself was left to you; you will perceive that you are dying before your season!
On a collective level, the stakes are higher. We know that we live in complex times that demand complex thoughts and conversations – and those, in turn, demand the very time and space that is nowhere to be found. The convenience of limitless connectivity has neatly paved over the nuances of in-person conversation, cutting away so much information and context in the process. In an endless cycle where communication is stunted and time is money, there are few moments to slip away and fewer ways to find each other.
Given how poorly art survives in a system that only values the bottom line, the stakes are cultural as well. What the tastes of neoliberal techno manifest–destiny and the culture of Trump have in common is impatience with anything nuanced, poetic, or less-than-obvious. Such "nothings" cannot be tolerated because they cannot be used or appropriated, and provide no deliverables. (Seen in this context, Trump's desire to defund the National Endowment for the Arts comes as no surprise.) In the early twentieth century, the surrealist painter Giorgio de Chirico foresaw a narrowing horizon for activities as "unproductive" as observation. He wrote:
In the face of the increasingly materialist and pragmatic orientation of our age … it would not be eccentric in the future to contemplate a society in which those who live for the plea- sures of the mind will no longer have the right to demand their place in the sun. The writer, the thinker, the dreamer, the poet, the metaphysician, the observer … he who tries to solve a riddle or to pass judgement will become an anachronistic figure, destined to disappear from the face of the earth like the ichthyosaur and the mammoth.
This book is about how to hold open that place in the sun. It is a field guide to doing nothing as an act of political resistance to the attention economy, with all the stubbornness of a Chinese "nail house" blocking a major highway. I want this not only for artists and writers, but for any person who perceives life to be more than an instrument and therefore something that cannot be optimized. A simple refusal motivates my argument: refusal to believe that the present time and place, and the people who are here with us, are somehow not enough. Platforms such as Facebook and Instagram act like dams that capitalize on our natural interest in others and an ageless need for community, hijacking and frustrating our most innate desires, and profiting from them. Solitude, observation, and simple conviviality should be recognized not only as ends in and of themselves, but inalienable rights belonging to anyone lucky enough to be alive.
The fact that the "nothing" that I propose is only nothing from the point of view of capitalist productivity explains the irony that a book called How to Do Nothing is in some ways also a plan of action. I want to trace a series of movements: 1) a dropping out, not dis- similar from the "dropping out" of the 1960s; 2) a lateral movement outward to things and people that are around us; and 3) a movement downward into place. Unless we are vigilant, the current design of much of our technology will block us every step of the way, deliberately creating false targets for self-reflection, curiosity, and a desire to belong to a community. When people long for some kind of escape, it's worth asking: What would "back to the land" mean if we understood the land to be where we are right now? Could "augmented reality" simply mean putting your phone down? And what (or who) is that sitting in front of you when you finally do?
It is within a blasted landscape of neoliberal determinism that this book seeks hidden springs of ambiguity and inefficiency. This is a four-course meal in the age of Soylent. But while I hope you find some relief in the invitation to simply stop or slow down, I don't mean this to be a weekend retreat or a mere treatise on creativity. The point of doing nothing, as I define it, isn't to return to work refreshed and ready to be more productive, but rather to question what we currently perceive as productive. My argument is obviously anticapitalist, especially concerning technologies that encourage a capitalist perception of time, place, self, and community. It is also environmental and historical: I propose that rerouting and deepening one's attention to place will likely lead to awareness of one's participation in history and in a more-than-human community. From either a social or ecological perspective, the ultimate goal of "doing nothing" is to wrest our focus from the attention economy and replant it in the public, physical realm.
I am not anti-technology. After all, there are forms of technology – from tools that let us observe the natural world to decentralized, noncommercial social networks – that might situate us more fully in the present. Rather, I am opposed to the way that corporate platforms buy and sell our attention, as well as to designs and uses of technology that enshrine a narrow definition of productivity and ignore the local, the carnal, and the poetic. I am concerned about the effects of current social media on expression – including the right not to express oneself – and its deliberately addictive features. But the villain here is not necessarily the Internet, or even the idea of social media; it is the invasive logic of commercial social media and its financial incentive to keep us in a profitable state of anxiety, envy, and distraction. It is furthermore the cult of individuality and personal branding that grow out of such platforms and affect the way we think about our offline selves and the places where we actually live.

---
How to Do Nothing is out now. Hear Jenny Odell discuss attention and productivity in the closing address of MWF Digital – stream it on 16 August.
About the author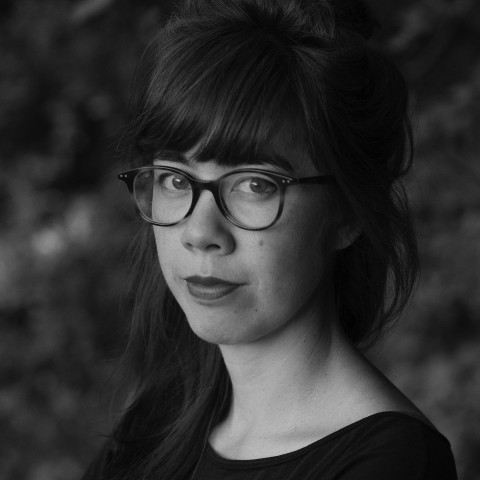 Jenny Odell is an artist and writer who teaches at Stanford University and has been an artist-in-residence at Facebook, the Internet Archive and the San Francisco Planning Department, among others. She exhibits her art all over the world, and lives in Oakland, California.
More about Jenny Odell