The Inc. Blot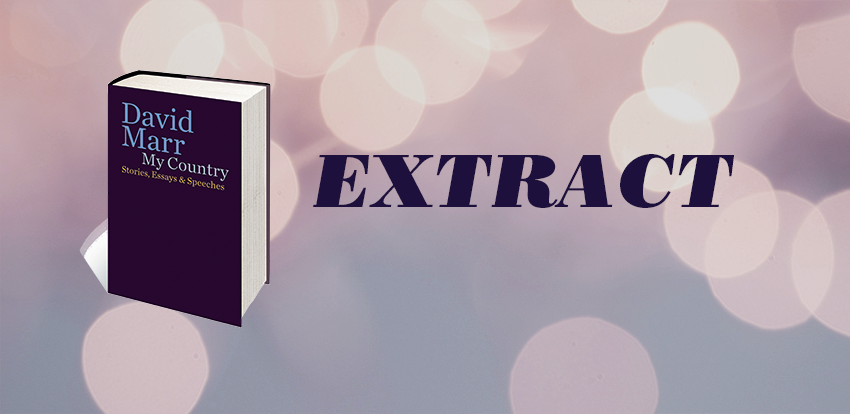 Send Down the Rain
Read on for an exclusive excerpt from David Marr's My Country
I can remember waking in summer to the sound of rain and feeling not disappointment but relief. I wouldn't be forced to the beach. I liked surfing well enough once I'd dragged myself down to the water. But hot days had their inflexible routine: up, breakfast and beach. A wet day meant freedom.
One of the lies we tell ourselves about summer is how we love the sun. Can't get enough of it, etc. But even back in the 1960s the sun spelled danger. In our house there was a rule against moping around on "good" days – you had to be outside – but another rule not to spend all day in the sun. We were all fair.
This meant time under the umbrella. Society in those little patches of shade was tedious. At no other point in those years did you spend so many hours so close to your parents. It is another of the odd contradictions of summer we tend to forget. The freedom of the beach was hard-won.
So wet days were a wonderful release. Heavy rain was dramatic but soft rain was best: it lasted longer. Slow grey, damp days left you free to laze about, dream and read. Above all read. One wet summer when I was about ten I discovered The Count of Monte Cristo. I can still remember that book, and the memory comes with the sound of rain.
Another of the lies we tell is that the beach is a wonderful place to read. If we were honest with ourselves we'd admit books and hot sun are a tricky combination at best. Try to read sitting up and the glare from the sea puts the page into black shadow. Try to read lying down and your back breaks. No one in their right mind sits in the full glare to read a novel, not on the page and not on the screen. Reading is an activity nat- urally pursued in the shade.
Every December the lists appear of best summer books. I applaud them: I want bookshops to prosper and writers to survive. Christmas is still the great bonanza for the book trade. But the best hope those books have of being read is a long, wet January.
The bad habits parents drum into children are largely to blame. Mine loved us reading and boasted how hard it was to get us to turn off the light and go to sleep. But during the day they had other imperatives: sun- light and chores. Whole generations like mine were left with the dysfunctional notion that reading has to wait until everything that must be done is done. While the sun is up, reading is a last resort.
I taught myself to type one wet summer when I was about fourteen in a house we'd rented on the cliff at Avalon. I still pass the old place with a sense of gratitude. I'd been given – at my request – an old typewriter for Christmas. I bought the Teach Yourself to Type manual and spent long days plunking the keys, staring at a chart on the wall with my hands hid- den under a bib. Tragic really: the most useful thing I learnt on those long summer holidays of my childhood was not how to stand on a surfboard, or fish (my father's passion) or drink or have sex, but to type. I've been at it ever since.
Every nation tells reassuring lies about itself. Another of the many we tell is that Australians flourish in the heat. Not endure, but flourish. We see ourselves as a people who come into our own when the mercury climbs above thirty-five degrees. We think of our history as one long, blazing summer.
The reality is a little different. Summer is disaster time on this continent. It is the time of fires, floods, cyclones and plagues of locusts. Holiday news bulletins are an unending national tally of death on the roads, in the surf, over waterfalls, by snake and spider, from balconies (a new development) and by stupidity in the wilderness. It's not just per- sonal but national. When did the first bombs drop on Darwin? Summer, 1942. Whitlam sacked? Summer, 1975. Newcastle hit by earthquake? Summer, 1989. Jørn Utzon dismissed? Summer, 1966. Bogle and Chandler murdered? Summer, 1963. Pauline Hanson elected? Summer, 1996. The Duke of Edinburgh shot at Clontarf? Summer, 1868.
You get the picture?
The truth is this nation does its best work in winter. We think better when we're cool. Somebody somewhere has probably done the PhD I need to quote at this point tracing the impact of air-conditioning on the national IQ, on political sanity and the spread of rational ideas in the bush. The last of these matters enormously. The sense of entitlement that came from sit- ting on a tractor for long hours in furnace heat has, for a century or more, shaped the politics of the nation. A lot of poor thinking was done bringing in the wheat. But now that work is carried out in air-conditioned ease by farmers listening to Radio National.
But for this being such a conservative, traditional country it might be possible to predict the extinction of the National Party for this reason alone: cool heads west of the divide and north of the border. Keeping summer at bay carries a huge carbon cost, but the benefits for the poli- tics of the nation over the decades ahead are, frankly, inestimable.
Summers seemed to last forever when we were kids. There was one summer before Christmas and another after. We were back at school well before summer was done. Algebra and French made less sense than ever in those final weeks of a season that seemed to last every year from late October to early April. It was as good as forever. Adults have a different calendar, of course. Time isn't our own. Summers have shrunk from months to weeks, from a season to a break.
Much of this is inevitable, but we've connived in the contraction. Who of us, after a run of sweltering days, doesn't secretly look forward to autumn? Much as we dream (and lie) about summer, autumn is the season that most reconciles us to living down here on this difficult con- tinent. The sun is friendly and the air sparkling. Energy returns. Our brains slip into gear. We start thinking again. The future is bright.
But before then, before we find ourselves back in winter, let there be a few more hot days.
My Country is available now. Click here for more details.
About the author
David Marr has written for the Sydney Morning Herald, The Age, The Saturday Paper, The Guardian and The Monthly, and has served as editor of the National Times, reporter for Four Corners and presenter of ABC TV's Media Watch. His books include Patrick White: A Life, The High Price of Heaven, Dark Victory (with Marian Wilkinson), Panic and six bestselling Quarterly Essays: His Master's Voice, Power Trip, Political Animal, The Prince, …
More about David Marr