News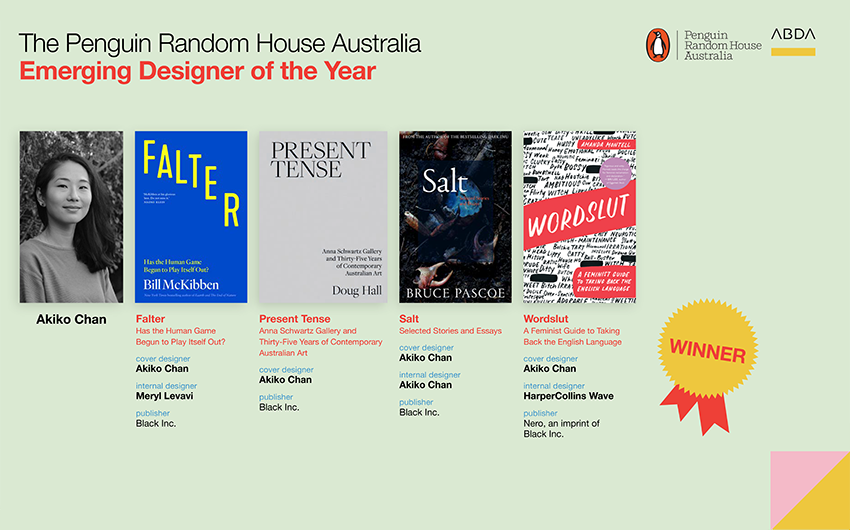 News >
Congratulations Akiko Chan, ABDA Emerging Designer of the Year!
Akiko Chan was awarded for her cover designs by the Australian Book Designers Association
Our biggest congratulations to Akiko Chan, who was named Emerging Designer of the Year at the 2020 ABDA Awards!
Akiko was recognised for her work on the Black Inc. and Nero titles Falter: Has the Human Game Begun to Play Itself Out?, Present Tense: Anna Schwartz Gallery and Thirty-Five Years of Contemporary Australian Art, Salt: Selected Stories and Essays and Wordslut: A Feminist Guide to Taking Back the English Language.
Thank you to the Australian Book Designers Association, as well as Penguin Random House Australia for supporting the award.
Akiko says: 'I'm thrilled and honoured to receive the Penguin Random House Emerging Designer Award for 2020. It's been a lovely surprise to be acknowledged by peers in the industry that I've long admired.
'Thank you, first of all, to everyone at Black Inc. – I could not ask for a better team! Special thanks to those who have been a tremendous support to me: Marilyn de Castro, Kirstie Innes-Will, Julia Carlomagno, Hanako Smith and Morry Schwartz.
'Congratulations also to Vanessa Masci for her incredible body of work, and the longlisted nominees: Louisa Maggio and Sarah Mitchell. A huge thank you to ABDA, especially to Hannah Janzen and Astred Hicks for putting together a wonderful awards ceremony amid difficult times, and more broadly to everyone on the team for creating a community for book designers.
'Lastly, I want to acknowledge that it's been a testing time for everyone. I've come to realise how fortunate we are to continue our work – and to be able to do so safely – thanks to the essential workers that are keeping everything going. I certainly don't take it for granted, and feel tremendously lucky to be part of an industry that has been able to help in some small way – be it by providing information, some optimism or simply a brief escape.'
Congratulations, Akiko!
---
Earlier this week, we asked Akiko about her favourite covers, her design process and more. Read the Q&A.