News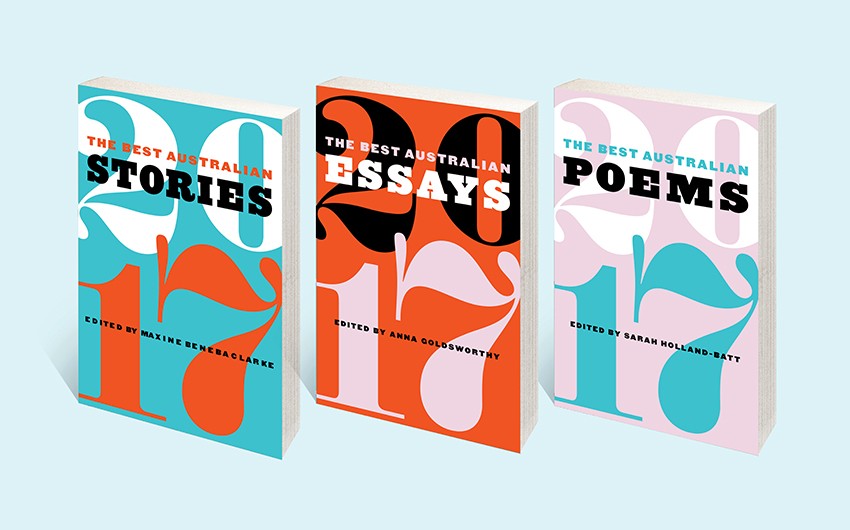 News > Announcements
Introducing the Best Australian Stories, Essays and Poems 2017
Black Inc. is delighted to announce the contributors to The Best Australian Stories, Essays and Poems 2017.
Now in their 19th year, the Best Australian Writing annual anthologies bring together our country's best and brightest writers. All three books are available for pre-order and will be in stores on Monday, 7 November 2017.
The Best Australian Stories 2017
Edited by Maxine Beneba Clarke
It was an absolute honour to be asked to edit this year's The Best Australian Stories, and even more of a privilege to read the submissions. Australian short fiction is truly alive, and kicking spiritedly. Stories which immediately captured my attention due to their clarity of conception, poetry of language, and painstaking attention to structure and form include Julie Koh's The Wall, a satirical tale of a divided Australia which spins the art of the larrikin-yarn on its head, and Tony Birch's Sissy which brings together two of the most stunningly painted child-characters I've met in quite some time in an exquisitely poignant story about longing and belonging. The stories in this collection are naturalistic and surreal; satirical and serious; heartwarming and hell-bent. They're testimony to the extraordinary skill and diversity of Australian fiction voices in 2017.
​—Maxine Beneba Clarke
Contributors:
Dominic Amerena, Madeline Bailey, Tony Birch, Verity Borthwick, Raelee Chapman, Elizabeth Tien An Flux, Cassie Hamer, John Kinsella, Julie Koh, Melissa Lucashenko, Myfanwy McDonald, Jennifer Mills, Joshua Mostafa, Ryan O'Neill, David Oberg, Allee Richards, Mirandi Riwoe, Josephine Rowe, Joe Rubbo, Beejay Silcox and Ellen van Neerven.
The Best Australian Essays 2017
Edited by Anna Goldsworthy
Editing a volume such as The Best Australian Essays 2017 is a great privilege in all the expected ways, but also in a way I hadn't anticipated: the access it offered into Australia's inner life. There is not room in this collection for all the excellent memoir we received; night after night, as I read through submissions, I was shocked, thrilled, and frequently devastated. A number of letimotifs emerged – nature, mental health, domestic violence, digital disruption, language – alongside countless variations on a theme of Trump. The most exciting thing for me was getting to know (or becoming reacquainted with) so many brilliant younger voices, such as Keane Shum, Shannon Burns and Anwen Crawford. Though much in these pages might lead to discouragement, the existence of these voices – stylish, vital, frequently wise – is a source of hope.
​—Anna Goldsworthy
Contributors:
Shannon Burns, Barry Humphries, Stan Grant, Keane Shum, Richard Cooke, Nick Feik, Michael Adams, Micheline Lee, Mandy Sayer, Tim Flannery, Sonya Hartnett, Harriet Riley, John Clarke, Jennifer Rutherford, Amanda Niehaus, Sam Vincent, Lech Blaine, Michael Mohammed Ahmad, Moreno Giovannoni, Janine Mikosza, Melissa Howard, Helen Garner, James Wood, J.M. Coetzee, Robert Skinner, Sebastian Smee and Anwen Crawford.
The Best Australian Poems 2017
Edited by Sarah Holland-Batt
Mark Twain once wrote that when Benjamin Franklin wanted to fly his kite undisturbed on a Sunday, he used to hook a key on his kite string and tell any scandalised onlookers he wasn't breaking the Sabbath, but rather 'fishing for lightning.' Reading for The Best Australian Poems 2017 feels very much like Franklin's fanciful hobby. You tell everyone how arduous and serious the job is, but secretly you spend your time joyously rummaging through journals, magazines, anthologies, individual books and submissions, compiling a long list of your favourites. Of course, the difficult part swiftly follows: you have to shave all those poems down to a tidy hundred. At the end of the process, though, I'm thrilled by this year's haul. A few special highlights for me are Barry Hill's moving elegy for the late great poet Fay Zwicky, which lands on the beautiful afterimage of Zwicky's voice, 'the old smoke still roiling in it', Maria Takolander's wonderfully spiky 'Nox', in which a wife composes a poem during a husband's stint anaesthetised in the ER, and Jaya Savige's exuberant echo-chamber 'Fort Dada', where language doubles in on itself in a serious of skilful refractions. There are more such favourites, of course – many more – and I hope readers will enjoy fishing for lightning in this year's anthology themselves.
—Sarah Holland-Batt
Contributors:
Robert Adamson, Jordie Albiston, Cassandra Atherton, Luke Beesley, Judith Beveridge, Judith Bishop, Kim Cheng Boey, Ken Bolton, Peter Boyle, Margaret Bradstock, Lisa Brockwell, David Brooks, Pam Brown, Joanne Burns, Michelle Cahill, Lee Cataldi, Julie Chevalier, Eileen Chong, Jennifer Compton, Stuart Cooke, Shevaun Cooley, Judith Crispin, Sarah Day, Shastra Deo, B.R. Dionysius, Lucy Dougan, Laurie Duggan, Adrienne Eberhard, Ali Cobby Eckermann, Stephen Edgar, Anne Elvey, Russell Erwin, Diane Fahey, Michael Farrell, Susan Fealy, Liam Ferney, Luke Fischer, Toby Fitch, John Foulcher, William Fox, Angela Gardner, Lisa Gorton, Phillip Hall, Natalie Harkin, Jennifer Harrison, Dimitra Harvey, John Hawke, Dominique Hecq, Paul Hetherington, Barry Hill, Andy Jackson, Clive James, Carol Jenkins, A. Frances Johnson, Jill Jones, Rae Desmond Jones, Amanda Joy, Carmen Leigh Keates, Antigone Kefala, John Kinsella, Louis Klee, Mike Ladd, Anthony Lawrence, Bronwyn Lea, Jeanine Leane, Emma Lew, Cassie Lewis, Bella Li, Jennifer Maiden, Caitlin Maling, David McCooey, Peter Minter, Marjon Mossammaparast, Philip Neilsen, Geoff Page, Claire Potter, Ron Pretty, Brendan Ryan, Gig Ryan, Tracy Ryan, Philip Salom, Jaya Savige, Michael Sharkey, Melinda Smith, Vivian Smith, Maria Takolander, Heather Taylor Johnson, Andrew Taylor, Tim Thorne, Mark Tredinnick, Todd Turner, John Upton, Chris Wallace-Crabbe, John Watson, Alan Wearne, Petra White, Jessica Wilkinson, Chloe Wilson, Fiona Wright and Fay Zwicky.