News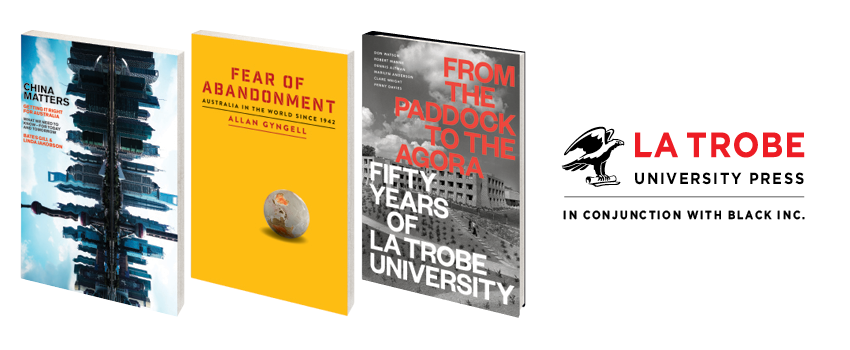 News > News
Introducing La Trobe University Press
Black Inc. and La Trobe University are publishing some of the sharpest minds in the country with the launch of La Trobe University Press.
La Trobe University Press will publish six titles in 2017, with China Matters: Getting It Right for Australia by Bates Gill and Linda Jakobson first off the press (March 27). Fear of Abandonment: Australia in the World since 1942 by Allan Gyngell will be released on April 3.
The publishing program will also include Donald Horne: Selected Writings by Donald Horne, It's Alive! by Toby Walsh, and Simon Leys: Navigator between Worlds by Philippe Paquet.
As one of Australia's leading universities, La Trobe University plays an integral role in Australia's public intellectual life, and is recognised globally for its research excellence and commitment to ideas and debate.
In partnership with Black Inc. – an independent Australian publishing house that specialises in quality non-fiction – La Trobe University Press will bring academics and experts from all over Australia to deliver books of high intellectual quality, substance and originality.
"Black Inc. delights in publishing home-grown scholarship and talent, and so we are thrilled to collaborate with La Trobe University in bringing many distinguished and innovative scholars from tertiary institutions across the country onto the bookshelves of a general readership," said Morry Schwartz, publisher of Black Inc.
Professor John Dewar, La Trobe University's Vice-Chancellor, said, "La Trobe University is excited to embark on this unique publishing partnership with Black Inc. The imprint will provide a platform for La Trobe to continue its longstanding tradition of public scholarship. For almost fifty years we have been contributing to public debate and discussion on the issues that matter, and La Trobe University Press will give scholars across Australia the opportunity to address some of the most fundamental questions of our time."
In what is considered a new model for a university press, La Trobe University makes use of Black Inc.'s editing, production, publicity and marketing expertise. All books are distributed by United Book Distributors (Penguin Random House) and through a range of electronic suppliers.
All submissions are considered by an Editorial Board, whose members are Emeritus Professor Robert Manne, Vice-Chancellors' Fellow Dr Elizabeth Finkel AO, and Morry Schwartz and Chris Feik of Black Inc. La Trobe University Press Publishing Director is Chris Feik.
About Black Inc.
Black Inc. is an independent Australian publisher that specialises in the publication of quality non-fiction: history, politics, memoir, biography, economics, and current affairs. It is also the publisher of the leading current affairs journal Quarterly Essay and the annual Best Essays, Stories and Poems anthologies. In 2007, 2009, 2015, it was awarded Australian Small Publisher of the Year.
About La Trobe University
La Trobe University is a globally recognised university which has been consistently ranked in the top 400 universities worldwide by the highly respected Times Higher Education and QS World University Rankings. The University is also ranked as one of the top 10 research universities in Australia, and third in Victoria, according to the Federal Government's 2015 Excellence in Research for Australia (ERA) report. La Trobe is the largest provider of higher education to regional Victoria, and has campuses in Bundoora, Bendigo, Shepparton, Mildura, Albury-Wodonga and Melbourne's CBD.