News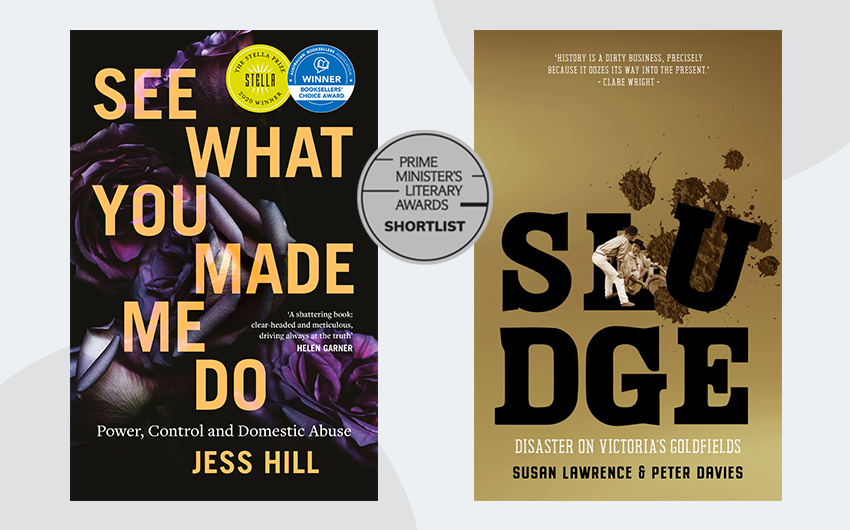 News >
See What You Made Me Do and Sludge shortlisted for PM Literary Awards
The Prime Minister's Literary Awards recognise the exceptional talent of Australian writers.
The Prime Minister's Literary Awards shortlist has been announced, and includes Jess Hill's bestselling investigation into domestic abuse, See What You Made Me Do (Non-Fiction), as well as Sludge, an account of Victoria's gold-mining environmental disaster by Susan Lawrence and Peter Davies (Australian History). Congratulations Jess, Susan and Peter!
Judges' comments on See What You Made Me Do:
'Hill interweaves her extensive research with illuminating and sometimes terrifying individual stories, ensuring that this is not just a sociological account, but also a deeply moving human story. This investigation recasts the questions that need to be asked about domestic abuse and invites the reader to reconsider how we think about both perpetrators and their victims.'
Judges' comments on Sludge:
'This book is a major contribution both to environmental history and historical archaeology. It is not only a history that illustrates past mistakes which have left an enduring environmental legacy but also speaks to a continuing need to address what remains a major contemporary ecological disaster.'
Winners of the 2020 Prime Minister's Literary Awards will be announced in December 2020. Both books are in bookstores now.