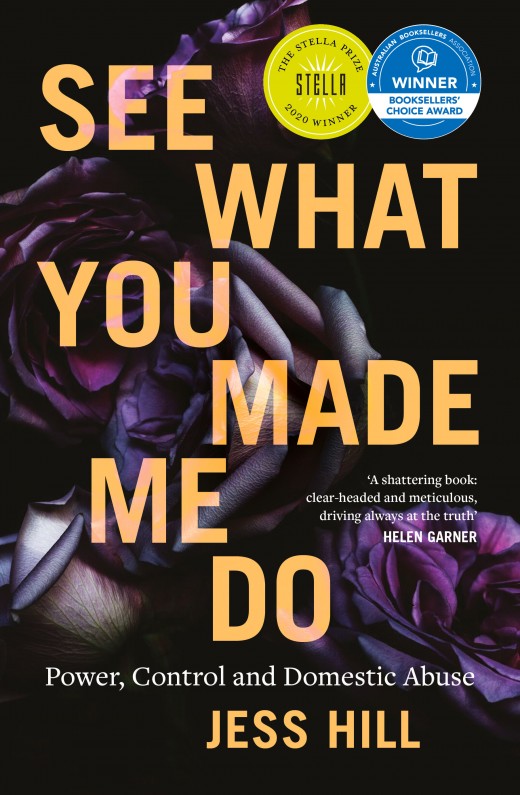 Such a well-written book and so well researched. See What You Made Me Do sheds new light on this complex issue that affects so many of us.
—Rosie Batty
Books > Imprint: Black Inc. > Society & Culture
See What You Made Me Do:
Power, Control and Domestic Abuse
Winner of the 2020 Stella Prize
A searing investigation that challenges everything you thought you knew about domestic abuse
Domestic abuse is a national emergency: one in four Australian women has experienced violence from a man she was intimate with. But too often we ask the wrong question: why didn't she leave? We should be asking: why did he do it?
Investigative journalist Jess Hill puts perpetrators – and the systems that enable them – in the spotlight. See What You Made Me Do is a deep dive into the abuse so many women and children experience – abuse that is often reinforced by the justice system they trust to protect them. Critically, it shows that we can drastically reduce domestic violence – not in generations to come, but today.
Combining forensic research with riveting storytelling, See What You Made Me Do radically rethinks how to confront the national crisis of fear and abuse in our homes.
Audiobook
Book club notes
Download book club notes for See What You Made Me Do
Awards for See What You Made Me Do
Winner, 2020 Stella Prize
Winner, 2020 ABA Booksellers' Choice Adult Non-Fiction Book of the Year
Highly Commended, 2020 Davitt Awards, Non-Fiction Crime Book
Finalist, 2019 Walkley Book Award
Finalist, 2019 Australian Human Rights Commission Media Award
Shortlisted, 2019 Victorian Premier's Literary Awards
Shortlisted, 2020 Australian Book Industry Awards, General Non-fiction Book of the Year
Shortlisted, 2020 Prime Minister's Literary Award for Non-fiction
Longlisted, 2019 Indie Book Awards
Longlisted, 2020 Australian Book Design Association Awards, Best Designed Autobiography/Biography/Memoir/Non-fiction Cover
Longlisted, 2020 Booksellers' Choice Awards, Adult Non-Fiction Book of the Year
A Readings Best Australian Nonfiction Book of 2019