News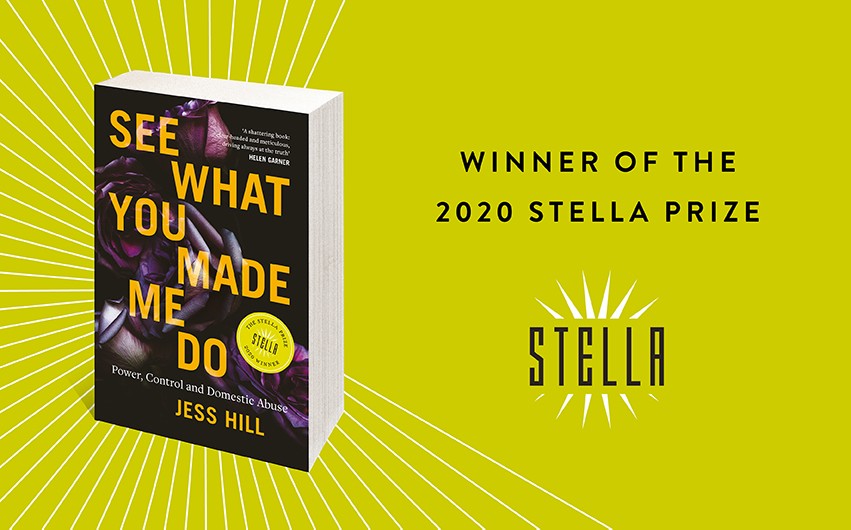 News >
See What You Made Me Do wins 2020 Stella Prize
Jess Hill's groundbreaking investigation on domestic abuse is awarded the top prize for Australian women's writing.
We're absolutely thrilled that See What You Made Me Do by Jess Hill has been awarded the 2020 Stella Prize! We couldn't be prouder of this brave and intelligent book.
See What You Made Me Do is a searing investigation that challenges everything you thought you knew about domestic abuse. Combining forensic research with riveting storytelling, the book radically rethinks how to confront the national crisis of fear and abuse in our homes.
Jess Hill is an investigative journalist who has been writing about domestic violence since 2014. Her reporting on the subject has won two Walkley awards, an Amnesty International award and three Our Watch awards.
'This book has taught me so much about life, love and power – it is not a book about other people, it is a book about all of us, and the world we live in. To all the victim-survivors out there, I hope you feel that this is a win for you, too. I couldn't have written the book without your expertise and courage.'
—Jess Hill, winner of the 2020 Stella Prize
See What You Made Me Do was a finalist for both the 2019 Walkley Book Award and 2019 Australian Human Rights Commission Media Award, and shortlisted for the 2020 Victorian Premier's Literary Award for Non-fiction. The book will form the basis for a new three-part documentary series to air on SBS TV in 2020, hosted by Jess.
Available now with free shipping, and as an ebook or audiobook.
---
The $50,000 prize, sponsored by the Wilson Foundation, was awarded last night during the 2020 Stella Prize Announcement broadcast, presented in partnership with The Wheeler Centre for Books, Writing and Ideas and Guardian Live. This was the first time the prize has been awarded in a digital format, which included an address from The Hon Julia Gillard and hosted by the ABC's Patricia Karvelas.
Watch the broadcast:
Read a transcript of Jess Hill's acceptance speech.
---
'To be honoured by a prize that operates with the highest integrity is such a thrill. I feel like I've been initiated into a circle of writers at the height of their craft, and for that I am just so grateful.'
—Jess Hill, winner of the 2020 Stella Prize
'Jess Hill is a journalist whose clarity of expression and thought are of the highest order. What she has done with her incredibly powerful book, See What You Made Me Do, is meticulously dismantle all of the lazy old lies we associate with domestic abuse. Using forensic investigation, and highlighting personal stories, this book does much more than draw attention to this crisis – it offers solutions for reform. The statistics are utterly horrifying, and Hill's extraordinary call to action cannot be ignored.'
—Louise Swinn, chair of the 2020 Stella Judging Panel
'At this point in our collective history – as the world changes around us in ways we can't fully anticipate or perhaps yet fathom – Jess Hill's extraordinary book See What You Made Me Do is a study in how to confront a crisis head-on. I'm awed by the rigour, humanity and clarity Jess brings to the project and wholeheartedly congratulate her on winning the 2020 Stella Prize with this landmark book.'
—Jaclyn Booton, Executive Director of Stella
'See What You Made Me Do is a revelation in the way it shines a light on the perpetrators of domestic abuse. It was a thrilling book to publish because we all knew it was breaking new ground. It's brave in every way.'
—Chris Feik, publisher
'Working on this book was one of the most meaningful experiences of my life, because it lays out a path for saving lives, if politicians and lawmakers heed its messages. I'm overjoyed that it's won, but there's also a sense of relief that Jess's voice – and the voices of so many survivors – will be heard at such a critical time, when victims are trapped with perpetrators due to the COVID-19 lockdown.'
—Kirstie Innes-Will, editor
---
Family and domestic violence support services
1800 Respect: 1800 737 732
Women's Crisis Line: 1800 811 811
Men's Referral Service: 1300 766 491
Relationships Australia: 1300 364 277
Lifeline: 131 114
---
About the author
Jess Hill is an investigative journalist and the author of See What You Made Me Do. She has been a producer for ABC Radio and journalist for Background Briefing, and Middle East correspondent for The Global Mail. Her reporting on domestic abuse has won two Walkley awards, an Amnesty International award and three Our Watch awards. See What You Made Me Do won the 2020 Stella Prize and the ABA Booksellers' Choice Adult Non-Fiction Book of the Year.
Photo: …
More about Jess Hill